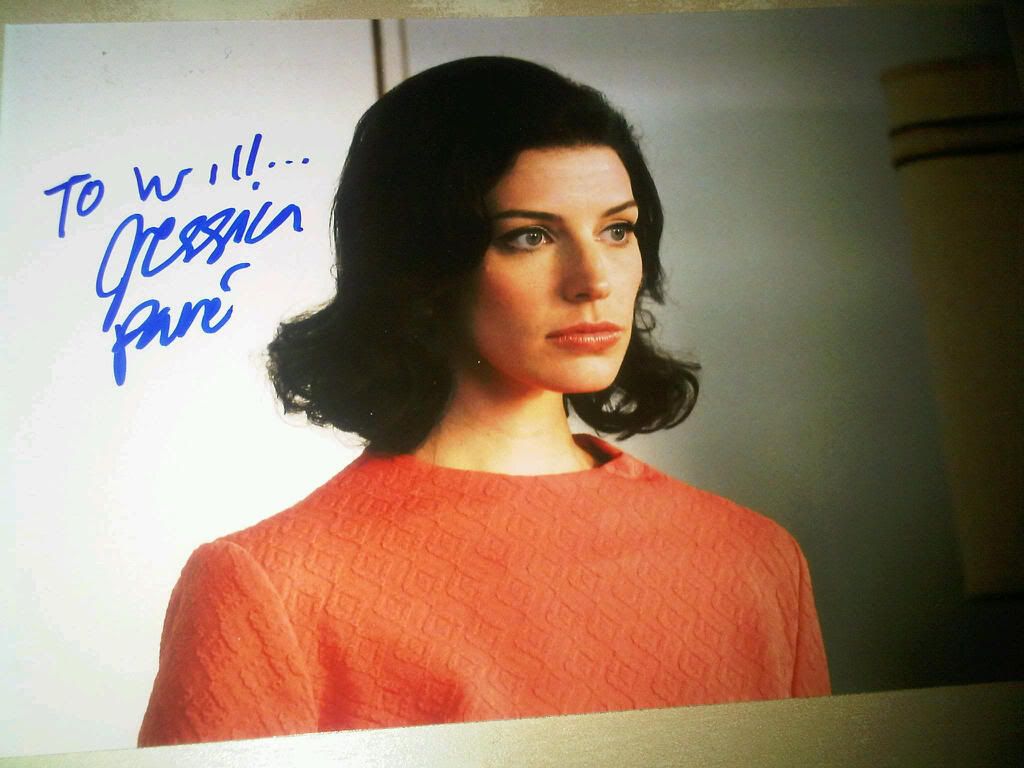 Jessica Paré
Montreal native and now Santa Monica-resident Jessica Paré flew in last night to promote Season Four of AMC's Mad Men's DVD release. Doing a round of Press today which included appearances on CityTV's Breakfast Television, followed by an appearance on Jian Ghomeshi's Q Radio on CBC, the Actress' timing couldn't have been better considering all the controversy surrounding the future of the Series right now.
As mentioned earlier today, Mad Men's Producer Matthew Weiner is currently in heated negotiations with AMC, which in a profit-minded decision is said to be ordering a reduction in Cast Members and also a shortening of Episodes to allow for more Advertisements during its Airtime. With Production at a standstill right now and no new episodes slated for the 2011 Calendar Year, the future of the Emmy and Golden Globe-winning Period Drama is uncertain.

Good logic surely will prevail from AMC perhaps based solely on Mad Men's ardently loyal following and hard-earned status as a Critical Darling. And did I mention what a big Mad Men Fan I am? I absolutely adored Paré's performance as Megan, Don Draper's level-headed Secretary-turned-Love Interest. To me, she is one of the brightest highlights of the past Season.
I did catch Paré on her way into an appearance this evening at a fittingly Period-appropriate Club in the City's Entertainment District, but surprisingly was denied a Photograph upon her arrival after asking kindly. Although it doesn't happen often, it does happen occasionally and it's unfortunate that it had to come from a fellow Canadian. She had spotted a Camera on one Fan and immediately asked him, "Where are these Photos going to be appearing?", before elaborating "I'd much prefer to be photographed inside without my coat on".

I myself however, did not possess a $150 Ticket to be "inside" the intimate event for Globe & Mail readers, but mind you I am no less a Fan of hers. Making the most of my wait in the Cold, I was reduced to asking if she could sign a Photo or two in the v. least, including one for my Readers. The request was met with general disinterest and a "Sorry, we've gotta go" as one of her Handlers gave me a genuinely apologetic look.
I was then relegated to waiting outside the venue where Paré could be heard speaking about her role as Megan and her experience on the Series, speaking with enthusiasm on her Microphone. She could be heard mentioning Christina Hendricks' character Joan and how tough she is.

Upon exiting the event, she proceeded to enter her Town Car. Once again I requested a Photo with good intentions and seeing that she was in a rush earlier, I gave her the benefit of the doubt that her initial rejection was a result of time constraints perhaps. "I'd rather not", she said to the Photo request, before personalizing the above Photo begrudgingly. "I appreciate you Guys waiting, but I've got to go to Dinner", she said clearly with more pressing concerns on her mind as she seated herself in her Town Car for a short duration before heading off.
I genuinely had hoped for some proper Photos to center this Piece around and a more Fan-Friendly experience to report, but that wouldn't have been an accurate depiction. Sorry Jessica - I'm still a Fan, but you really need to lighten-up, Girl. Not all people with a Camera want to exploit you - some of us might actually want to help your cause or in the v. least shine some light on it. Just ask Maple Pictures, they know what a loyal Supporter I am. But thanks for the Autograph though - it is a lovely one.
Season Four of
Mad Men
is now on DVD in Canada via
Maple Pictures
.
Click here
for more specifics.