Mr. Will-W. & Chanel Iman
In 2007, Vogue's Anna Wintour called her "one of the world's next top Supermodels" and she actually now has fulfilled that prediction less than three years later. 20 year-old Chanel Iman after having been in the business for seven years, has seen a meteoric rise to the top of the Fashion world in less than seven years.
Alexander McQueen, Marc Jacobs, Versace, Dolce & Gabanna, Valentino, John Galliano, Vera Wang, Stella McCartney. These are just a few of the Fashion Houses which have handpicked Iman to don their pieces on the Runway. And just last year, she had received her much-heralded Angel Wings, making her officially a Victoria's Secret Angel.
Now residing in New York City, Iman is known as the most prolific African-American Models of her generation. In fact, she is only the third Black Model ever to have graced the cover of Vogue and at the same time, she holds the distinction of being the youngest Model ever to have appeared on its cover.

Did I mention she's also an avid Philanthropist too? Iman is known too for her support of the HerShe Foundation for Teen Girls who come from Foster Homes, helping them transition into Society.
The Angel herself has descended upon Toronto officially and she's in-town to do some Press tomorrow including appearances on CTV's The Marilyn Denis Show and a more publicized Meet & Greet at newly-launched Victoria's Secret - Eaton Centre between 4 to 6 PM. The visit is Iman's second in recent months.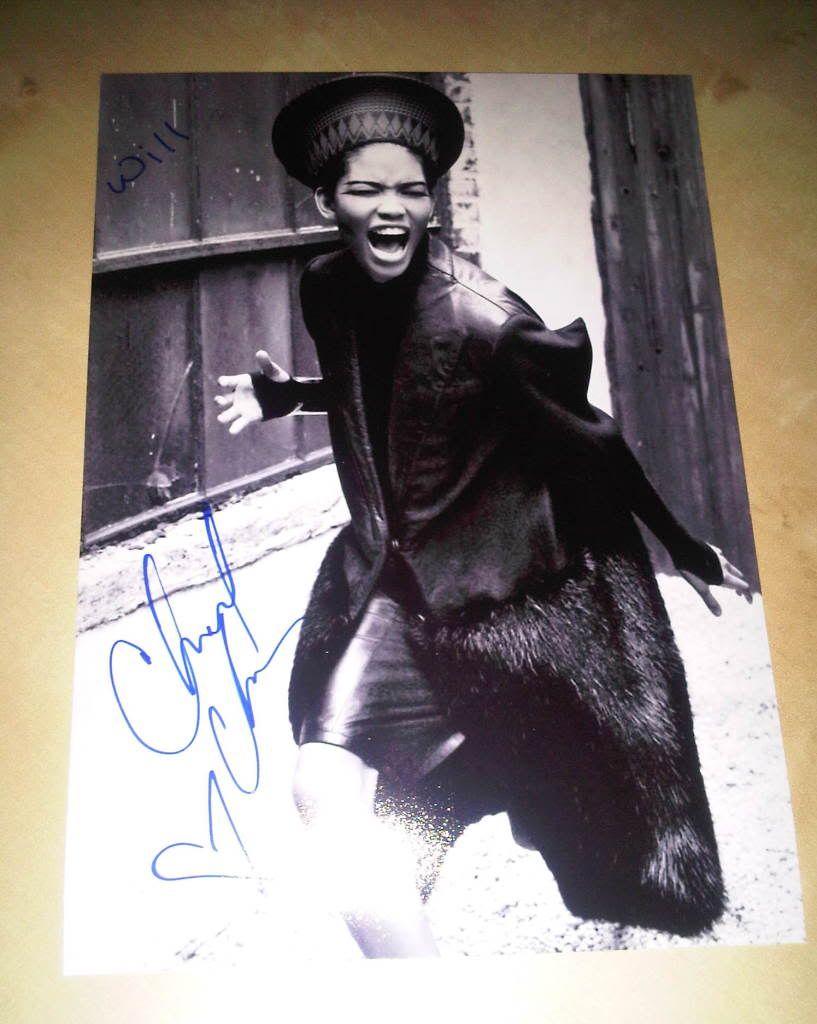 Catching up with the Supermodel quickly tonight, she was all smiles and energetic after a day of running errands (including Shopping), before catching her flight into the City. She confessed to me "God, I look whack!", dressed casual and cute in a pair of Pink Track Pants, Hoodie, and Leather Jacket far too thin for the frigid temperatures we are experiencing in our City. She was wearing a cute pair of brown Ballerina Slip-Ons too - comfort first. The reality though is that despite Iman's claims of not looking her best, she still was stylish even if it was done effortlessly.
"It's cold out here, why don't you come on in?", she told me and another Fan, welcoming us into the Lobby of her Hotel. She then handed her Blackberry over to the Doorman, telling him "I want a Photo with all of us!", having to instruct him twice on how to take the Photo. Iman will be posting the Photo of us three at some point, being an avid Blogger and Tweeter. Beauty is beyond skin deep.... and beautiful she is.
Follow
Chanel Iman
on
Twitter
here
. And if you get a moment tomorrow, you should go down to meet her absolutely!
Victoria's Secret
knows how to throw a Bash.
(Photo credit: Mr. Will-W. via Michelle Moon)