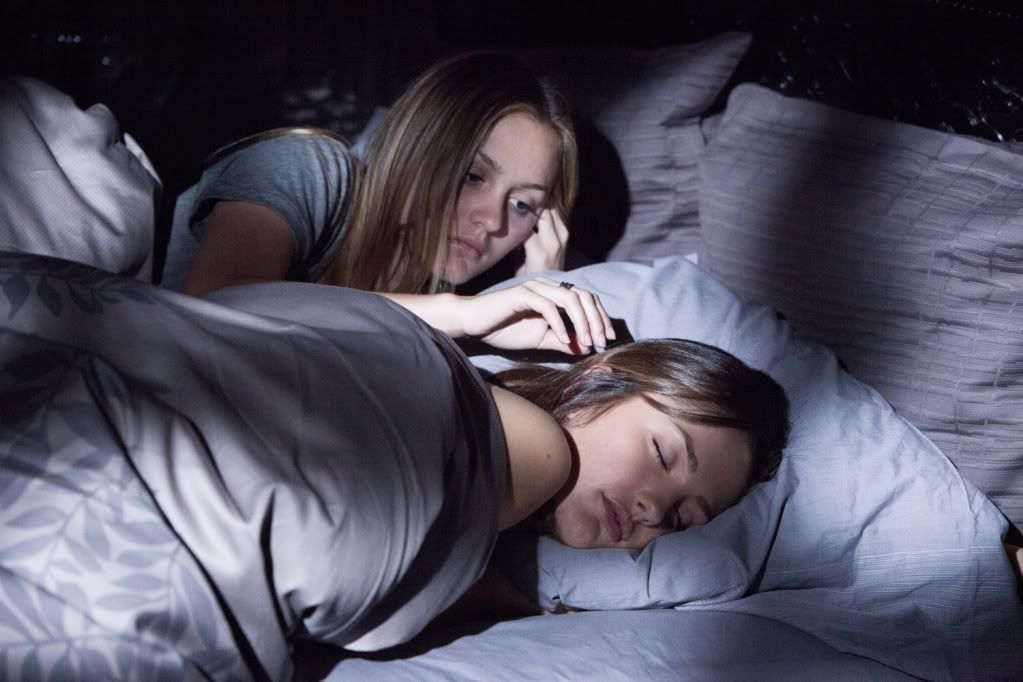 Still from The Roommate
What a mess. Christian E. Christiansen's The Roommate gets its inspiration from 1992's Single White Female, which was an edgy portrait of Obsession. Where this Film suffers its greatest downfall is its hopes of appealing to a Teen audience, shying away from risks which would have made it the terrifying Thriller it aspired to be.
Sara Matthews (Minka Kelly) is a Freshman College Student with aspirations in Fashion Design. All is well until she comes home one night to her room to find Rebecca (Leighton Meester) waiting on her. Eerily, they bear striking resemblances to one another. We learn that Sara once had an older Sister who passed away when she was nine years-old. Before long, we begin noticing Rebecca's controlling ways with her incessantly demanding to be Sara's one and only Friend and replacement Sister.
Crazy Rebecca stalks Sara's Friend Tracy (Alyson Michalka) in the Shower, pushing her face-first to the floor, threatening her life should she not stay away from her. Rebecca also has Phone Sex with Sara's Ex-Boyfriend Jason (Matt Lanter) whilst impersonating Sara. In addition to this, she seduces Sara's Professor (Billy Zane), effectively sabotaging his career after learning that he has made sexual advances on Sara. More jaw-dropping, we see Rebecca visiting a Lesbian Club, engaging in a sexy tryst with one of Sara's Best Friends Irene (Danneel Harris). And if you think Rebecca is totally obsessed, wait till you see how she feels about Stephen (Cam Gigandet), the current Boyfriend of Sara.
In a nutshell, I've pretty much given away
The Roommate,
which perhaps due to poor Editing, reads like a series of shocking events pieced together rather than a clear cohesive story of a troubled Young Woman with
Schizophrenia/Bi-Polar Disorder
and her Roommate's fight for survival.
Kelly and Meester both deliver passable performances here and perhaps they can look back at this one day when their careers have advanced further and laugh at this 105 minutes of Camp. I know I got a few good chuckles in the v. least. Sony Screen Gems' The Roommate is well aware of its own ridiculousness but doesn't quite know that it should laugh at itself. Grade: D+