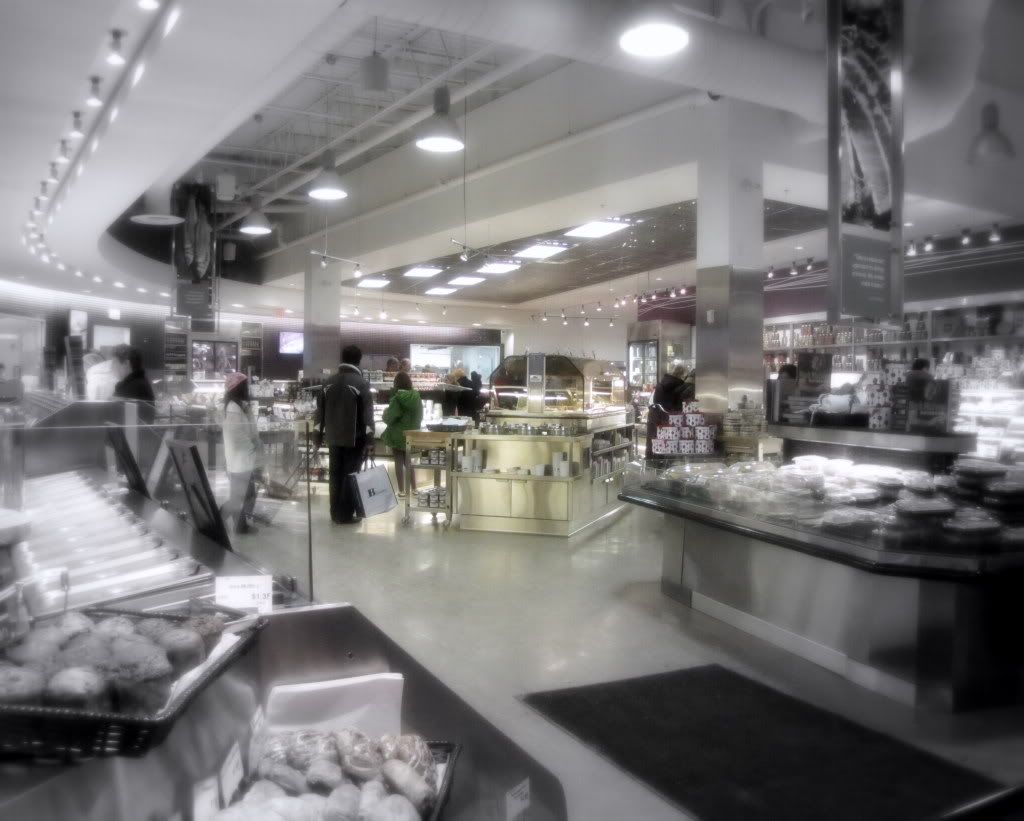 McEwan Foods at Don Mills Centre
Now who said the 'Burbs weren't cool? Top Chef Mark McEwan launched his own Fine Foods Grocery Store up in Don Mills back in September 2009 and finally, I had an opportunity to venture north of the City to visit it with my one of my BFFs, Habeyah. I was floored.
Inspired by New York City's Dean & Deluca, McEwan Foods, is located in a revamped and glamourized Don Mills Centre (Don Mill x Lawrence). Equipped with a Bakery, Restaurant Meal Replacement Counter, Charcuterie and Produce Section, I'd peg this 25,000 sq. ft. Grocery Mecca somewhere neatly between Whole Foods and Pusateri's, arguably Toronto's most chic Grocers.
What makes McEwan Foods stand out is the variety of exclusive items it carries. Perusing the front of the Store, I could not keep my eyes off of read-to-eat selections like Mashed Potatoes with Truffles, Mediterranean Salad (chalk full of Shrimps and Artichokes) and delightful looking Danishes baked a shade of golden I've never quite seen before. Restaurant quality Food in a Grocery Store. Well, I've never....
McEwan Foods' Bakery
Their Charcuterie includes a wide array of impressive looking Meats. Shrink-wrapped portions of Chicken are sold marinated in-and-around the $10 range for four pieces - ready for the Grill or Oven. McEwan's exlcusive line of bottled Sauces are another defining feature for the Grocer. Their Hong Kong Sauce, comprised of Barbeque Sauce and Maple Syrup might not seem reminiscent immediately of the Chinese territory, but looked particularly intriguing still.
Although Produce selection was quite as impressive, locally-focused nor eclectic as that of Whole Foods, still the Retailer offers a wide selection of choices to Shoppers. Vegetables and Fruits were lined in an organized manner and appeared appetizingly fresh to the eye and palette.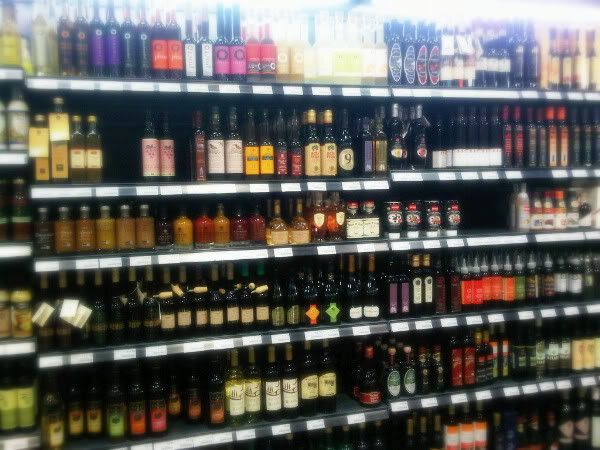 McEwan Foods' Vinegar Selection
Tapenades like a pink-coloured Tarama Greek Caviar were offered as Samples and tasted exquisite, at a reasonable $6.00 per small container. Their selection of Vinegars is unparalleled - including options aged ten-plus years all the way those of the Pomegranate variety. This photo to the right fails to cover all of it.
Least impressive I'd say is McEwan Foods' Bakery, which had a small selection of Cupcakes, individual servings of Cakes, Brownies and Miniature Eclairs. Bread options were not particularly abundant and few delights were available by the Coffee Counter other than some Croissants, Cookies, Muffins and Cinnamon Rolls.
Where McEwan Foods scores high points is its wide variety of rarely -seen brands including Pasta Sauces from Celebrity Chefs Mario Batali and Jamie Oliver, ranging from $6-10. One Clerk kept persuading me to try Batali's Alla Vodka Sauce which apparently is "out-of-this world". I opted for a more humble Chili Tomato Sauce by Oliver. I was impressed also at their options for Breakfast Foods including many non-processed Cereals too!
Pet Foods also were reasonably priced. My Dog Billy enjoys Chewmasters' Chicken Fillets which were priced at $6.99, on-par with Whole Foods. I've seen several Pet Food Stores charge almost twice the price for the same product.
Their Tea and Coffee selection boasts of many beautifully-packaged, yet obscure brands. At long last I was able to find Jablum's Jamaica Blue Mountain Coffee ($24.99 for 1/2 pound), which I am rather anxious to brew. Their Staff, like Whole Foods, offer to grind Coffee Beans on-the-spot without hesitation. Pusateri's doesn't offer this option mostly due to lack of space.
Luckily for Torontonians, there are rumours of a possible expansion for McEwan Foods to other parts of Greater Toronto. We'd welcome one Downtown with open arms!
Visit McEwan Foods' official website
here
.
(Photo credit: Mr. Will-W.)