Bob Saget & Mr. Will-W.
Although most of us know him as Danny Tanner from Full House or as the Host of America's Funniest Home Videos (both from ABC), Bob Saget's roots run deep in Stand-up Comedy. To me, Danny Tanner always was the Hunk of Full House, despite many feeling that Uncle Jesse (John Stamos) deserved that title. After graduating Temple University in the late '70s with a Bachelor of Arts in Film Studies, Saget found much success as a Comedian before landing a star-making role on Full House in 1987. He signed-on to host America's Funniest Home Videos in 1989, appearing simultaneously on both top-rated programs for six years. The Funnyman's stint on Home Videos ended in 1997, just two years after Full House aired its final episode.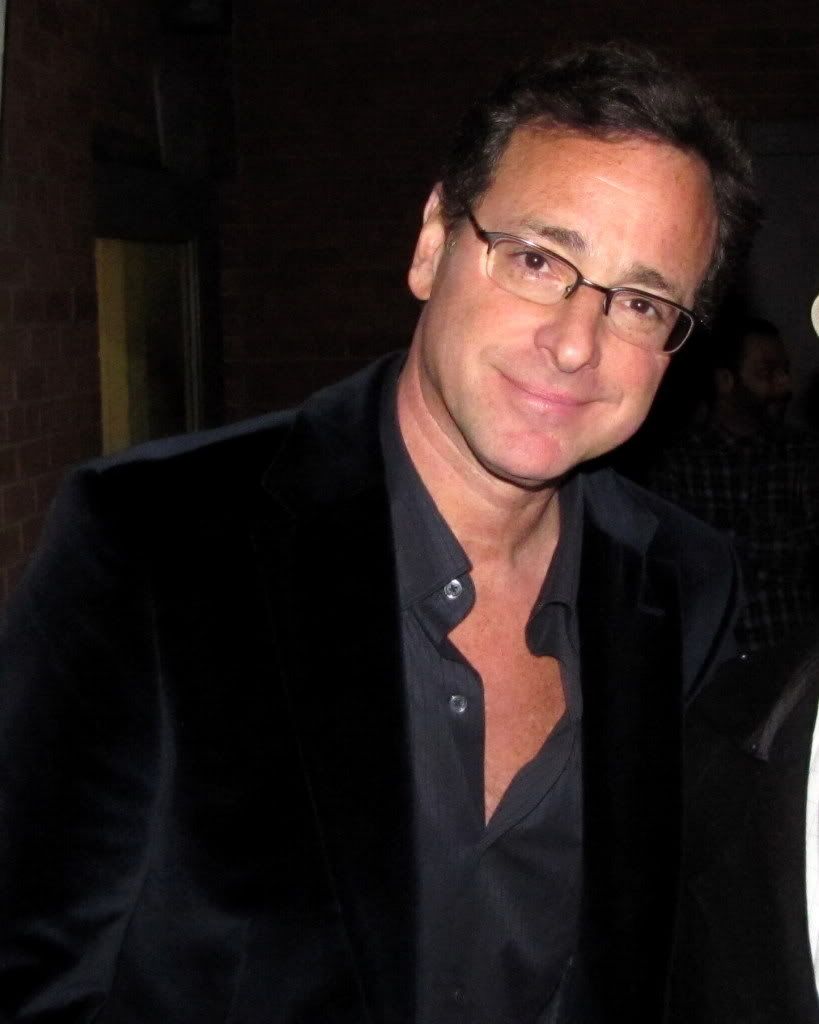 Known for his squeaky-clean persona on Television, many were shocked to discover that
Saget
's brand of humour also
includes a surprising amount of profanity and lewd jokes, which can be witnessed at his Live Shows. Clearly Fans cannot get enough of the sharp dichotomy as he packed the house at
Queen Elizabeth Theatre
tonight in Toronto, located on the historic
Canadian National Exhibition
grounds.
Arriving just an hour before showtime, Saget came without an entourage and delivered an hour-long Set, ending just after 9:30 PM. Fans praised his performance with proclamations of "I loved it!" and "...but I thought it was going to be dirtier!". Few negative comments were observed.
A notoriously Fan-friendly Saget exited the Stage Door of the venue 20 minutes after his Show, greeting six Fans including myself. "Snap away!, he encouraged Fans, posing for Photos with each of them individually. He also signed a handful of Autographs, offering to personalize each and every one with dedications. One Fan told him, "You've inspired me to go into Stand-up Comedy", which Saget seemed affected by genuinely. Before long, he began complaining that his feet were cold, cutting-off the queue as the crowd began to grow. "Oh, shit! We just missed him!", one Fan expressed disappointingly watching Saget head into his SUV.
Despite having a bit of hard luck of late with his 2009 ABC Series Surviving Suburbia being canceled after just one season, many don't realize that the present day voice of Josh Radnor's character on popular Sitcom How I Met Your Mother is actually that of Saget. If tonight's turnout is any indication of his popularity after being out of the spotlight for quite some time, one can expect a career with longevity from him. Surely a comeback can't be that far away.
You can follow
Bob Saget
on
Twitter
here
.
Oh what's that? You'd like an Autograph from Mr. Saget too? Well, leave me a comment with one fond memory the Funnyman has given you. One winner will be drawn at random February 14, 2011 midnight. Good luck, Mavenati! Which Blog always loves you back again?
(Photo credit: Mr. Will-W.)