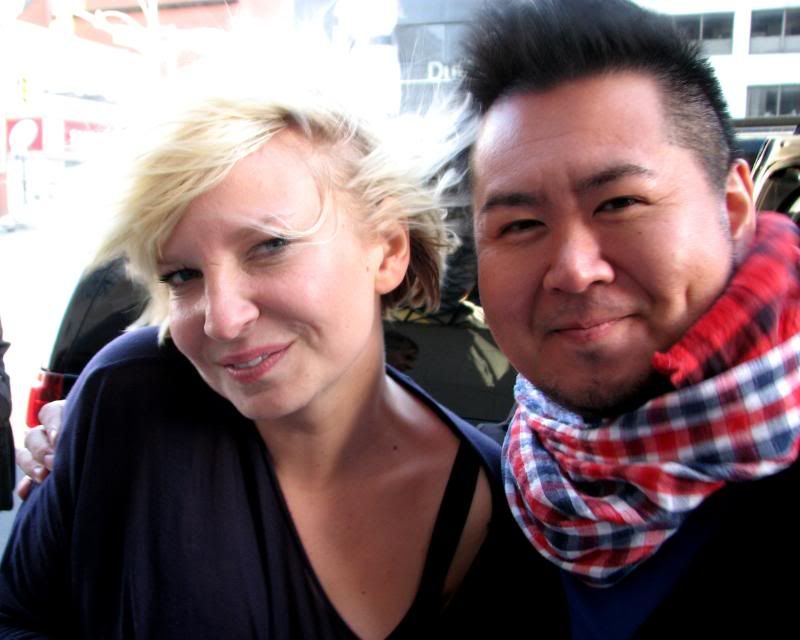 Australian singer-songwriter
Sia
(
née
Sia Furler
) is just on the verge of releasing her fifth studio album
We Are Born
via
Sony Music
on
June 7, 2010
. She dropped by
MTV Studio
in Toronto to do a three-track acoustic performance before a young crowd, mostly unfamilar with her material.
Donning a blue knit mesh dress, she charmed her way into the hearts of the audience. She even took a moment to clear the air after a small argument broke out in the audience and later she addressed some heckling from the crowd with nothing but sheer class.
Sia started off first with latest single Clap Your Hands, which features a decidedly more pop direction under the guidance of Grammy-nominated producer Greg Kurstin (The Bird and The Bee, Lily Allen). She followed the number with two soulful acoustic numbers (titles unknown) with her two guitarists, before exiting gracefully and bidding adieu to fans whom she will see tomorrow at her show at The Phoenix.
My friends and I luckily got a chance to meet Sia on her way to a radio interview and she stopped to sign a few autographs and do photos with some of us. She even remembered my name before boarding her label's Escalade with her publicist, giggling that she's certain her hair looked amazing in our photo together due to a sudden breeze which acted as a Wind Machine. It was as if the forces of nature created a moment just for us!
Sia
reportedly has been getting close to
Christina Aguilera
of late, claiming that they are "best friends" after working on four tracks together for
Aguilera
's new album
Bionic
. Don't forget to check out these pictures I got from her performance, plus a full-length performance of
Clap Your Hands
below (audio content owned by
Sony Music
):
Stay tuned for an exciting Sia giveaway coming early June on Mr. Will-W.:Pop Maven! (Photo credit: Mr. Will-W.)