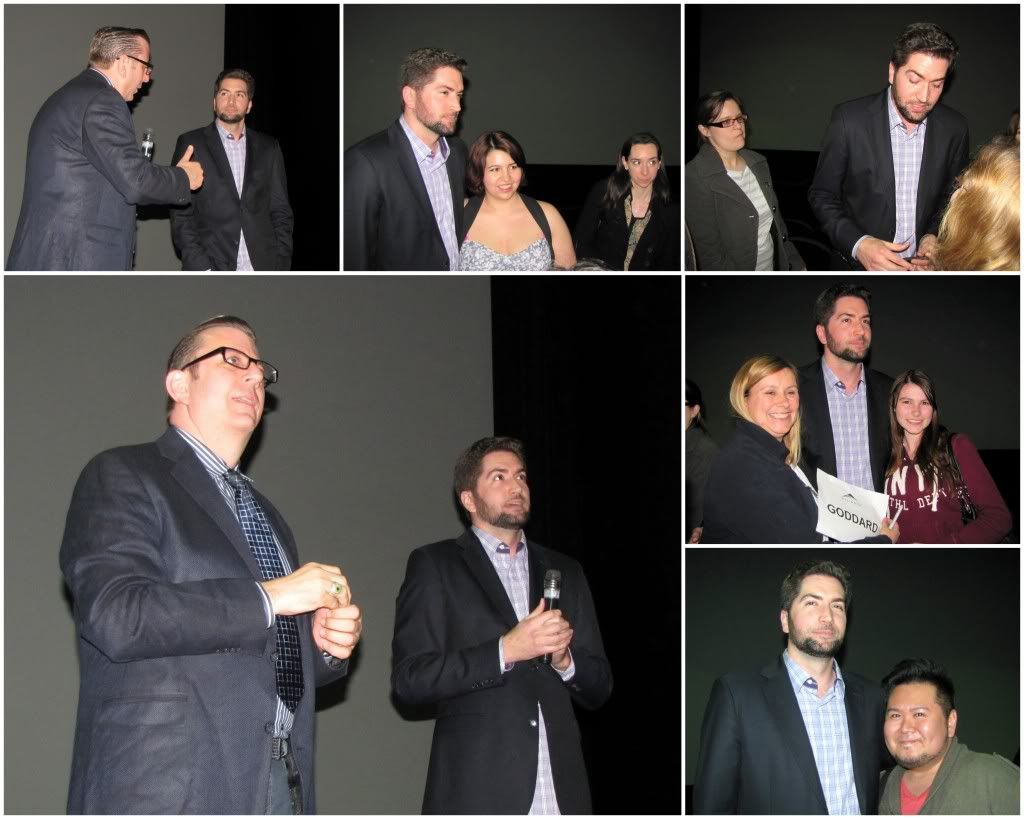 Drew Goddard in Toronto - March 2012 with Richard Crouse, Mr. Will-W. & Fans
NOTE: This Post containts Spoilers. After several delays, mostly at the corporate level, Sci-Fi/Comedy/Horror The Cabin in the Woods finally will get a release after switching hands from Metro-Goldwyn-Mayer over to Lionsgate Films (Alliance Films in Canada). First-time Director Drew Goddard known mostly for his writing in acclaimed Feature Cloverfield and also TV Series like Buffy the Vampire Slayer, Alias and Lost, flew-in to Toronto to do a Press Day for the Film - co-written by Joss Whedon (The Avengers, Roseanne). The Duo had prior collaborated on Buffy.
A humble Goddard admitted before a crowd which gave him a standing ovation tonight at Scotiabank Theatre he felt at many moments that others working on The Cabin in the Woods would clue-in and realize that he didn't belong, speaking on his inexperience as a Director. He also expresses much pride in having worked with a brilliant Cast which includes Richard Jenkins, Chris Hemsworth, Bradley Whitford and more. He admits to being rather starstruck in securing Sigourney Weaver to do a brief appearance also. Weaver apparently approached had Whedon and Goddard for an Autograph on her copy of the Script, which the Director still to this day doesn't believe had happened, being a huge Ghostbusters Fan himself.
In tonight's Q&A moderated by Film Critic Richard Crouse, we learned that some positives did come out of the many delays surrounding the release of The Cabin in the Woods, which was filmed in Vancouver back in 2009. "I mean Thor (Hemsworth) is in our Movie and it weirdly makes his death look way better!", Goddard jokes. "This is actually the best thing that could have happened". No more Spoilers though, unfortunately.
Following the Screening, Goddard took his time greeting Fans, signing Buffy Memorabilia and Posters. He was pleased that I enjoyed an uncomfortable scene involving a Wolf head and a passionate kiss. Yes, it's that kind of a Movie!
Alliance Films releases The Cabin in the Woods on April 13, 2012.
(Photo/video credit: Mr. Will-W.)