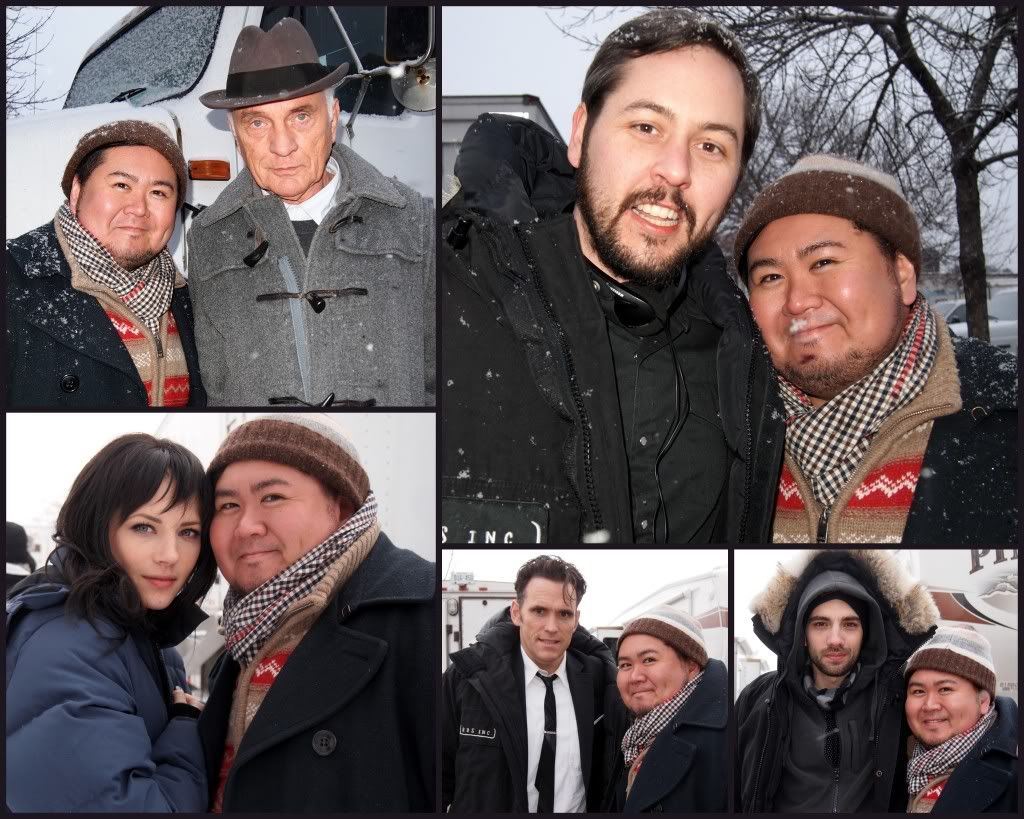 Top to Bottom - L to R: Terence Stamp, Jonathan Sobol, Katheryn Winnick, Matt Dillon, Jay Baruchel & Mr. Will-W.
I had the absolute pleasuring of meeting some of the Cast and Director of forthcoming Feature, The Black Marks finally after pondering it at great lengths. The second Film from Toronto's Jonathan Sobol looks to be highly entertaining, being about a retired Motorcycle Daredevil/Art Thief named Crunch Calhoun (Kurt Russell) who gathers his old Crew - including his Brother Nicky (Matt Dillon) - to perform one last Heist on a priceless book. Think Ocean's Eleven, a wittier plot and a real expensive Book. The outstanding Cast includes also Montreal's Jay Baruchel, both Toronto's Katheryn Winnick and Chris Diamantopoulos, Hamilton's Jason Jones, plus British Thespian Terence Stamp.
Filming for the Dimension Films release has shifted between Niagara Falls, Hamilton and Toronto and I learned through Baruchel that he actually has a deep attachment to Hamilton, having filmed in Steel City multiple times in the past. "What? You saw it??", he asked with his jaw dropped after telling him how hard I laughed at his upcoming Hockey Comedy Goon, in theatres February 24, 2012 via Alliance Films. Genuinely touched, he said "You don't know how much that actually means to me!". Of course, Baruchel is deeply-attached to the Film as he not only stars in it, but also co-wrote its Screenplay along with Evan Goldberg. Although it premiered last September at TIFF, we just may be seeing him again on the Red Carpet here in Toronto soon to ring-in its official release.
Meeting Dillon - dressed in a Canada Goose jacket mind you - was a great pleasure as I've fawned over his performances since Childhood. The Flamingo Kid, The Outsiders, Rumble Fish, Beautiful Girls, Wild Things, There's Something About Mary, Nothing but the Truth... Crash, for which he received his first Academy Award nomination. All dynamic performances and proof that his true talent defies the belief that he would never be more than just a Teen Idol. And although being 47 (48 next week) really isn't that old, he does still look amaze. Modest, Dillon asked me, "Have you met Jay Baruchel yet? Now that's a really great guy.". Surely, these Co-stars have had an opportunity to bond with neighbouring trailers.
Although I didn't have much of a chance to chat with him, Stamp whom we all know for his work in the Superman Franchise, Get Smart and even more recently The Adjustment Bureau, was amazingly nice to stop for a quick Photo. "Forgive me as I'm not quite used to this cold Canadian weather", says the Academy Award-nominated Brit.

Barely recognizable as a Brunette, Toronto's Katheryn Winnick plays the lone female Principal Role as Lola in The Black Marks. If her face looks familiar to you, that's because her Acting Resume actually is pretty impressive having appeared in Failure to Launch, Two Weeks' Notice, Love and Other Drugs, Oz, Bones and several other well-known releases. After a busy past few days of traveling, she had just woken from a nap still looking beautiful and happy to say a quick "hello".


One of Canada's brightest new stars,
Sobol
, is a name to watch-out for with his 2010 Film
A Beginner's Guide to Endings
making a splash at
TIFF.
"What? You want a photo with me?", he reacted surprisingly before introducing his Assistant to me. Although
Sobol
was extremely kind-spirited to advise me to return the next day since
Russell
wasn't on-set, unfortunately that wasn't to be.
There is every reason to believe that we just might be seeing
The Black Marks
premiere here in Toronto this September, proudly sporting its Canadian connections.
Keep an eye on this one!
In the meantime, you can follow
The Black Marks
on
Twitter
here
and "like" their
Facebook Page
to keep-up with their v. latest as they work towards a wrap later this month.
UPDATE: How nice of The Black Marks Team to ReTweet this Post!
(Photo credit: Mr. Will-W.)