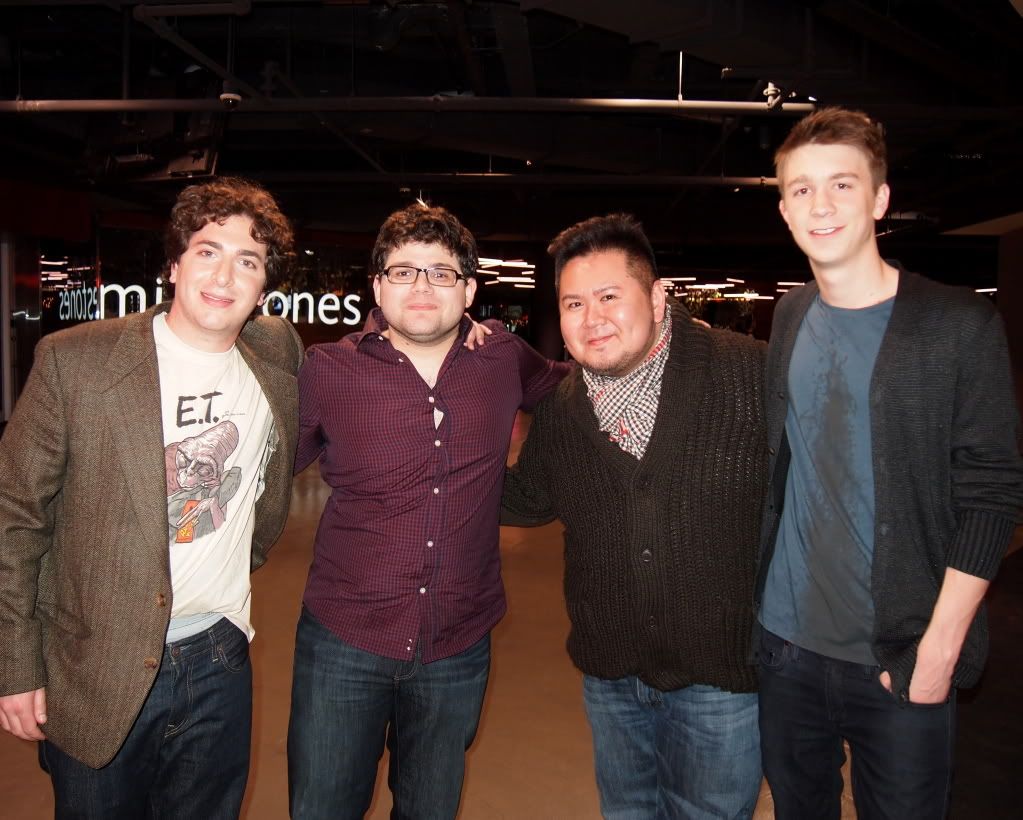 Oliver Cooper, Jonathan Daniel Brown, Mr. Will-W. & Thomas Mann
How amaze is it that Toronto got to party with the Boys from hotly-buzzed Comedy Project X? Produced by The Hangover Director Todd Phillips, this Story is about three High School Seniors who decide to throw an epic Birthday Bash in the name of Fame. Craigslist Ads are placed, E-mails are blasted, Text Messages are sent and before they know it, everything soon spirals wildly out of control.
Breakout Stars
Thomas Mann, Oliver Cooper
and
Jonathan Daniel Brown
beat out a group of fresh faces all across the U.S. with a
Talent Search
held back in 2010 for the $12-million Film. There is every reason to believe that this Trio soon will become highly-recognizable faces -
Nima Nourizadeh
's
Project X
is equally shocking as it is funny... and well, pretty terrifying. Without a doubt, there will be talk and lots of it.
Although I'll be interviewing Mann, Cooper and Brown tomorrow, I'll share some Photos from tonight's super-fun Afterparty at Jack Astor's - Yonge & Dundas, following a Screening attended by the three Actors. Audience members got up-close and personal with the down-to-earth Cast, chatting over all sorts of deliciousness and libations, courtesy of Warner Bros. Canada. One lucky Lady even won herself Tickets to the forthcoming Los Angeles Premiere of Project X. Big smiles all around. There even were Project X T-Shirts being handed-out and the Guys themselves were eager to get their hands on some!
Mann tells me that he and his Co-stars just arrived from Los Angeles and actually has been to Toronto before for TIFF 2010, with It's Something Kind of Funny. Cooper is excited to begin this Press Tour, with Toronto as its first scheduled stop and Brown tells me, "I looked at the Press List and remembered your name because you're the only Blogger. Now, that's really cool!".
UPDATE
:
Click here
to read my chat with the Cast of
Project X
and details on how you can win a Prize Pack which includes a Signed Photo and a official T-Shirt!
See more Photos below:
(Photo credit: Mr. Will-W.)