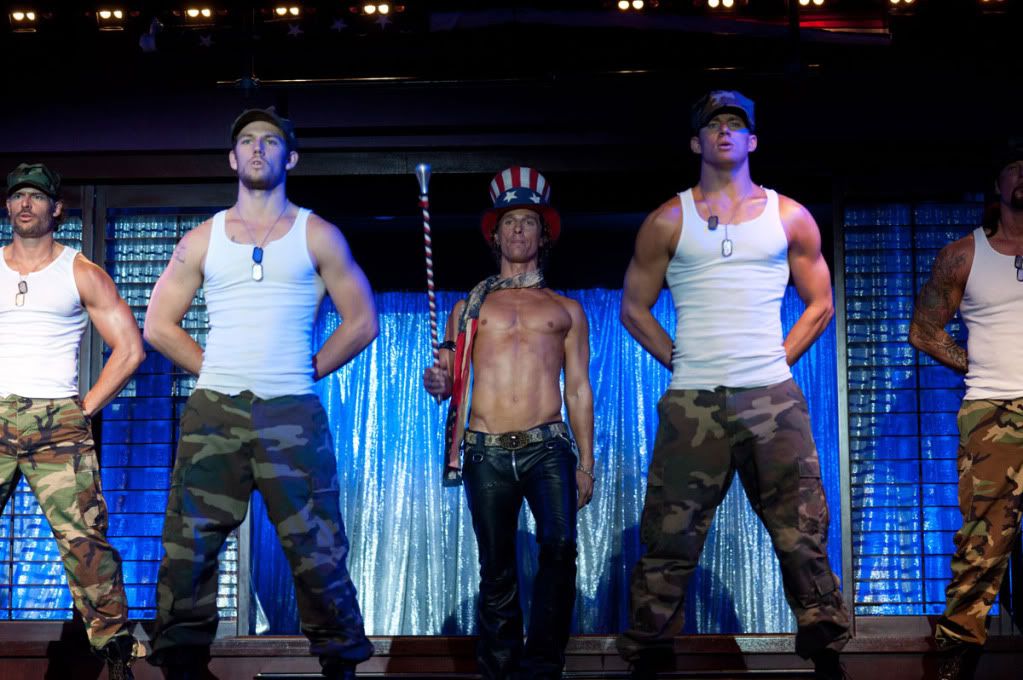 Still from Magic Mike
Finally, we get a first look at Steven Soderbergh's Male-Stripper Drama Magic Mike. The Film centers around The Kid (a now-buff Alex Pettyfer) who goes under the wings of a professional, more experienced Dancers named Mike (Channing Tatum) and Dallas (Matthew McConaughey). It is said that Tatum played a great part behind-the-scenes crafting the Story and that much of this is based upon his own experiences formerly as an Exotic Dancer.
Here we have the incredibly fit and good looking Cast ready to answer the call of the Drill Sargent (McConaughey), doing his nation proud with a flag tied around his neck. Nothing like some good old-fashion Patriotism.
Speaking of Patriotism, Warner Bros. will be releasing Magic Mike right before 4th of July weekend on June 29, 2012 and I'm sure many of you are ready to salute!
2012 will be a busy year for Tatum as he has Haywire out on January 20, 2012, Toronto-filmed The Vow out on February 10, 2012 in-time for Valentine's Day, 21 Jump Street on March 12, 2012 and G.I. Joe: Retaliation out on June 29, 2012. His Ten Year, which premiered at TIFF last September also is still waiting on a release date also. I'm out of breath just typing that....
(Photo credit: Warner Bros.)