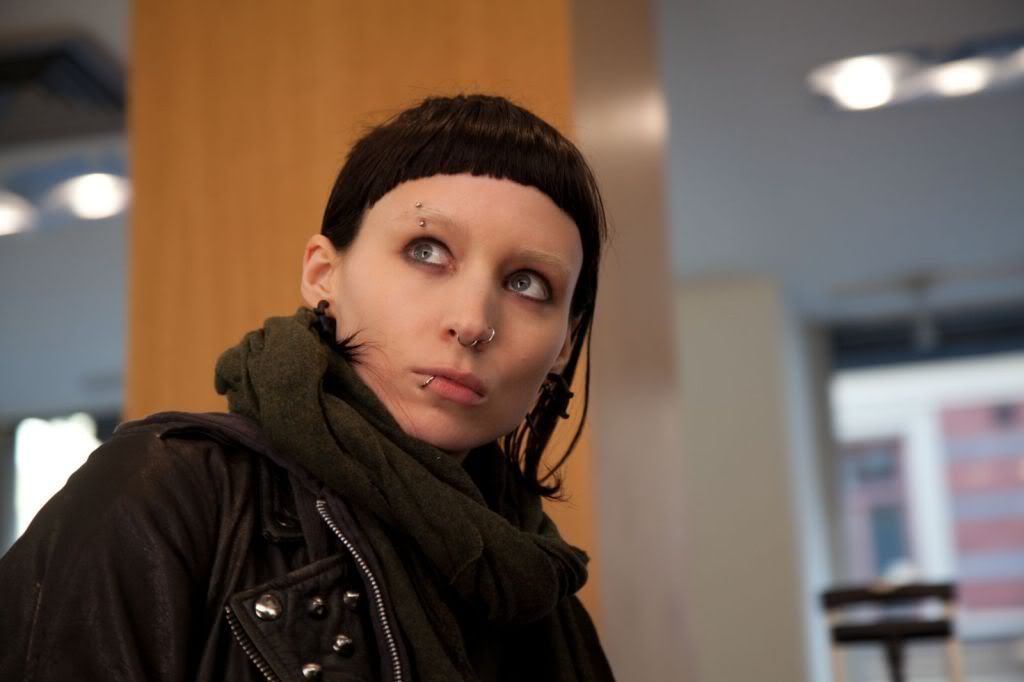 Still from The Girl with the Dragon Tattoo
Rooney Mara is pretty much on the verge is something huge with David Fincher's The Girl with the Dragon Tattoo. The 26 year-old New Yorker appeared a bit green on the interviewing, telling Kelly Ripa on Live! With Kelly five important things you need to know about the Girl who plays Lisbeth Salander:
Mara had five piercings done at once in preparation for her role, some which she says are "under her shirt" and "cannot be mentioned on Daytime Television"; her nose was not pierced. As more filming is forthcoming for additional installments of the Stieg Larsson Trilogy, she has decided to keep her piercings in.
In real life, Mara has no tattoos
To develop an authentic Swedish accent, she worked with a Coach two hours a day before Filming began
She comes from a line of Football Royalty - her Father is a New York Giants Executive and her Mother's Family founded the Pittsburgh Steelers
She admits that she got her biggest break meeting Fincher who cast her in acclaimed 2010 Facebook Drama The Social Network. The Girl with the Dragon Tattoo is their second time working together.
Mara was nominated for Golden Globe Award already for the Film, but her older sister by two years Kate Mara (whom I met back in September), also stars in a Golden Globe-nominated TV Series in American Horror Story.
Sony Pictures' The Girl with the Dragon Tattoo opens Wednesday, December 21, 2011.
(Photo credit: Sony Pictures)