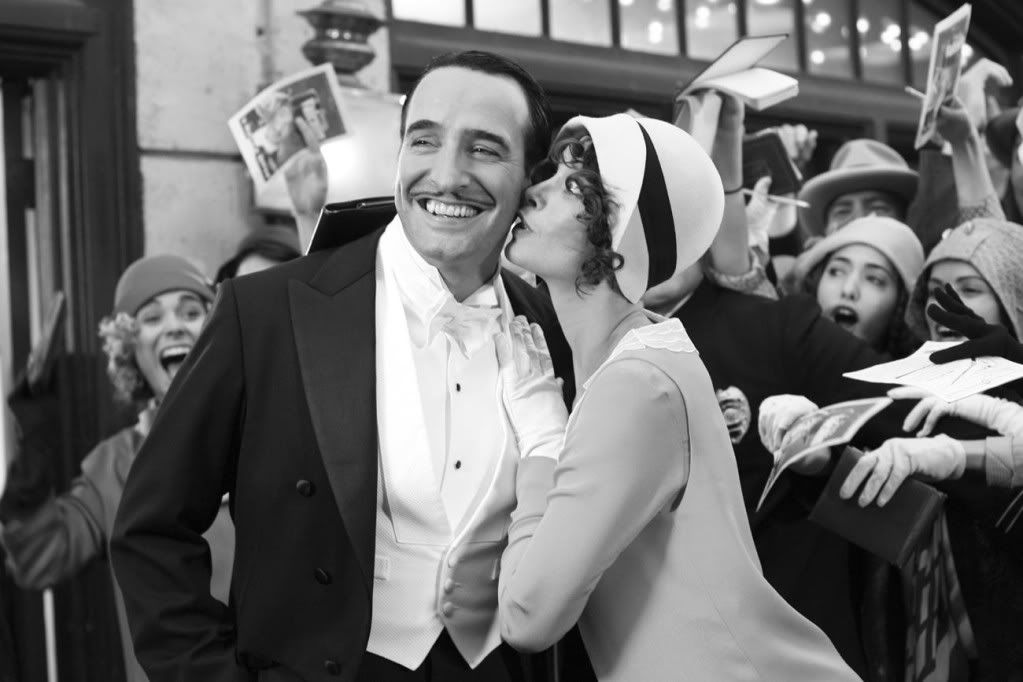 Still from The Artist
Few Films touched me as deeply as
Michel Hazanavicius' The Artist
in 2011
and to be honest it may have helped that I had few expectations walking into it. All I knew about it prior was that it is about Silent Film Star
George Valentin
(
Jean Dujardin
) and how the end of that Era halted his flourishing Career abruptly. Staying true to the Era it pays homage to, the Film only is stylized as a Silent Film and shot in a unique Aspect Ratio of 1.37 :1.
With changing paradigms in Film coming with the introduction of Dialogue-based Films known as the
Talkies
, we see a young Woman named
Peppy Miller
's (
Bérénice
Bejo
) stock rise as a
bona fide
Movie Star. Although it is the changing tastes of Moviegoers and Studio Executives which lead to
Valentin
's professional demise, it also is his stubborn Pride which he falls victim to ultimately, refusing to accept help including that of his biggest Admirer,
Peppy
.
Jean Dujardin
's brilliant performance as
Valentin
is the stuff of
Oscars
and remarkably he does it saying only two words the entire Film. He stretches himself to the limit emotionally completely with just physical gestures and facial emoting. Argentinian/French Talent
Bejo
is a true revelation here as the beautiful and effervescent
Peppy
and one cannot help but fall in love with her Character's genuine pure spirit. And how about that adorable little
Jack Russell
named
Uggie
as
Valentin'
s
Sidekick
incessantly tugging at our heartstrings?
Alliance Films' The Artist
is now in theatres and don't be shocked if it were to take it all -
Best Picture, Best Director, Best Supporting Actress
and of course
Best Actor
- at the
84th
Academy Awards
. Isn't it about time you saw something truly uplifting?