2011 It's Always Something Gala for Gilda's Club Toronto
Some familiar faces came back to Toronto last night in honour of a Friend.
Gilda's Club Toronto
opened its doors in 1991 in memory of Comedienne/Actress
Gilda Radner -
known best for her work on
Saturday Night Live -
who had passed away in 1989 after a three-year battle with Ovarian Cancer. The Club offers free Group Support to the Families-of and those who are suffering from Cancer.
Radner
once said publicly, "No one should have to face Cancer alone". Having battled Cancer for a brief period in my life myself, I understand the truth in that statement.
Although for the past nine years the It's Always Something Gala for Gilda's Club Toronto was held at the Royal Alexandra and Elgin Theatres, the venue was upgraded to Sony Centre for the Performing Arts, selling-out 3,100 seats to accommodate. Over the past nine years, the Gala has raised over $3 million for the Cause.
Some famous Friends of Radner's like Andrea Martin, Jeanne Beker, Eugene Levy, Martin Short, Catherine O'Hara, Paul Shaffer, Fred Willard came-out to show their support, performing a two-act Variety Show, hosted for the fifth year by our v. own Russell Peters. Tributes were paid in Speeches, Dedications, Skits, Song and Dance, reminding us that her Spirit still is v. present.
Paul Shaffer & Martin Short
Short
brought-on the big laughs, playing-up his ego with
David Letterman
's
Sidekick
Paul Shaffer
on-piano, doing a number to the tune of
Elton John
's
Candle in the Wind
called
Bastard in the Sand
, in memory of
Osama bin Laden. O'Hara
and
Levy
even revived their hilarious
SCTV
Lounge Singer Duo
Lola Heatheron
&
Bobby Bittman
for the Crowd once-more again, doing a Canadian Medley of Hits along with
Shaffer
. Everyone united onstage for one final number
Day by Day,
from the Musical
Godspell
, which
Radner
had starred-in here in Toronto back in 1972 at
Royal Alexandra Theatre
alongside
Martin, Short
and
Levy
, with
Shaffer
as Musical Director.
Watch Levy and O'Hara perform their Canadian Medley below:
Although the Variety Show was wonderfully entertaining, the Reception upstairs is where lots of excitement was with the Talent stopping to pose for Photos and chat with Guests one-on-one. O'Hara who currently is working on Tim Burton's next Film Frankenweenie (reuniting with Beetlejuice Co-star Winona Ryder!) looked lovely and leggy, fanning herself down from all the heat. The veteran Actress was Publicity-shy last night, opting out of interviews and hovering away from the Media Wall during the Reception.
Meanwhile a still-gorgeous Martin was heard declaring "That's enough Photos!" after posing by the with her Friends for a good ten minutes and Willard soon chimed-in enough, "That's enough!", heading going off to relax on a Loveseat, enjoying a glass of Wine. Willard had earlier performed a Monologue inspired by Johnny Cash's Folsom Prison Concert but instead his being a Comedy Tour at a Mental Institution. He explains to me that the horrific shrieking noises heard on the snippet he played for us were actually from one of his Daughter's Halloween Cassettes. Short went on a mission to round-up an in-and-out Shaffer for a Photo Op. Levy was in the thick of it all, being stopped to chat every degree he turned before Mrs. Levy (Deborah Divine) had to remind her Order of Canada-receiving Husband, "Honey, we've gotta go now!".
And did I mention the Food? The Keg being one of the major Corporate Sponsors, had a totally worth-it queue of Guests waiting on Prime Rib Sliders. At other stations were delectable Pulled Pork Sliders, Cheeseburger Sliders, tangy Chow Mein w/Egg Rolls, Chicken Pasta and take-home by the tray Cupcakes. No complaints were heard.
The Keg's Prime Rib Slider
See some Photos below: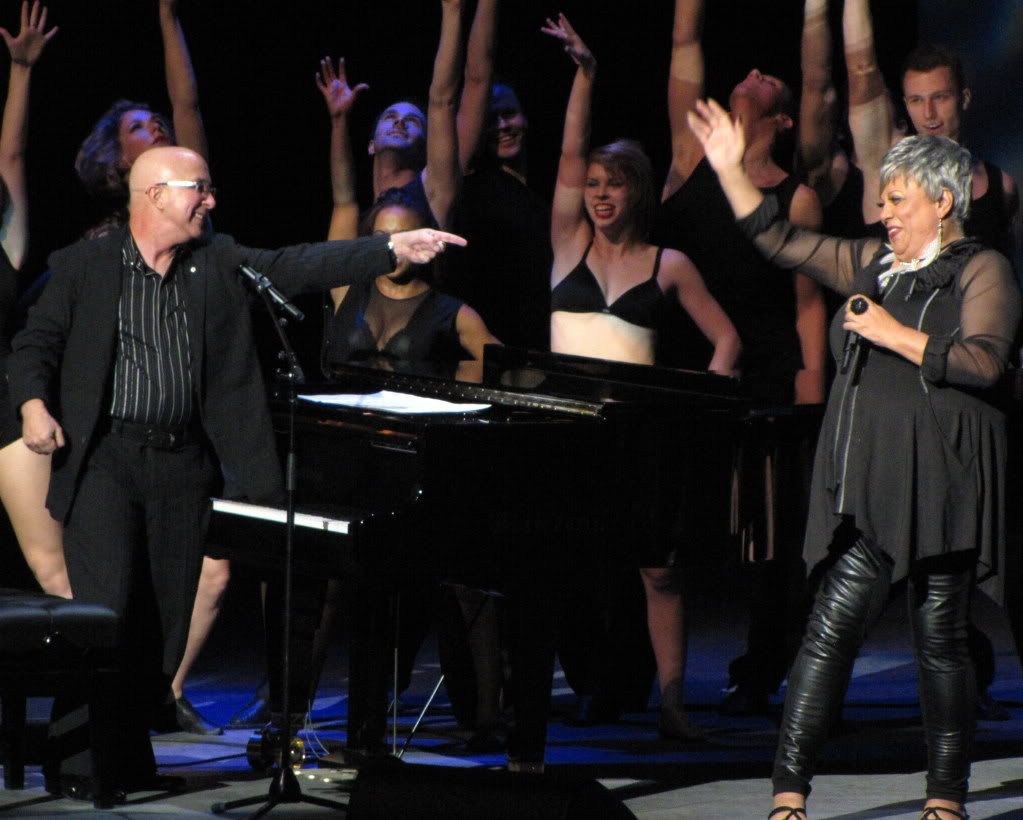 Paul Shaffer & Jackie Richardson - It's Raining Men
Eugene Levy & Catherine O'Hara - Canadian Medley
Andrea Martin - Let's Talk Dirty to the Animals
Randy Bachman - Takin' Care of Business
Fred Willard
Russell Peters
Catherine O'Hara & Friend
Fred Willard, Andrea Martin, Martin Short & Eugene Levy
Martin Short, Paul Shaffer & Eugene Levy
... and because it's expected:
Eugene Levy & Mr. Will-W.
Catherine O'Hara & Mr. Will-W.
Andrea Martin & Mr. Will-W.


To learn more about
Gilda's Club Toronto
,
click here
.
(Photo/video credit: Mr. Will-W.)