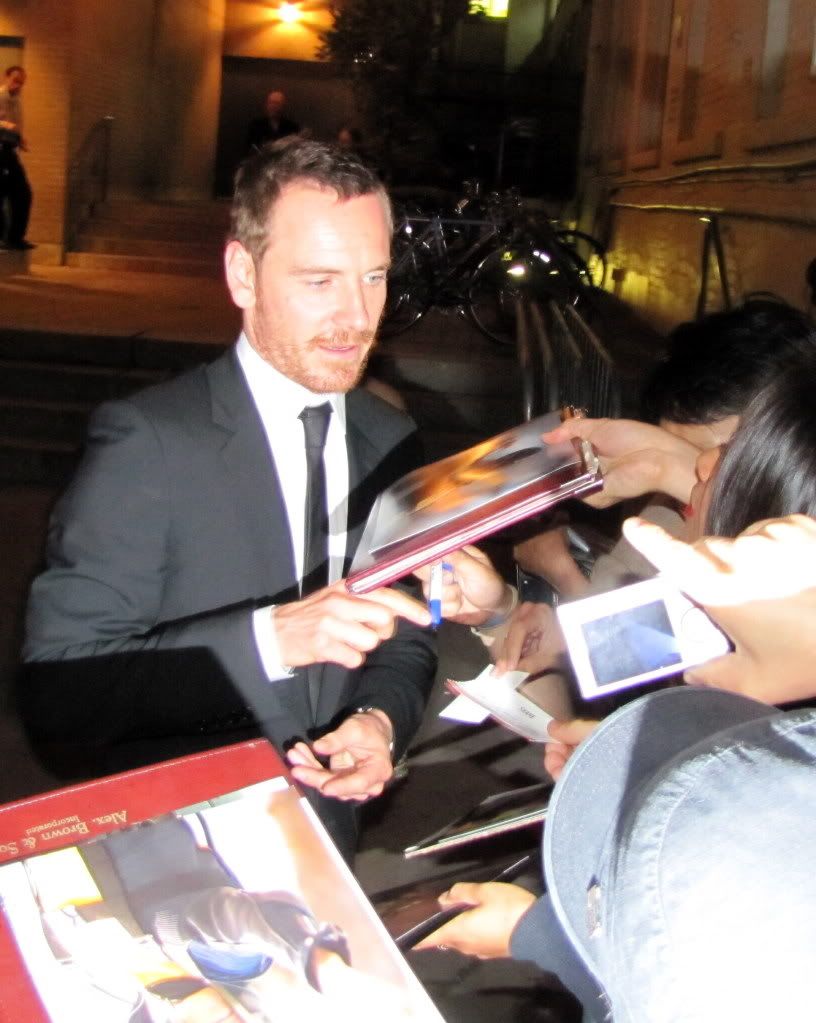 Michael Fassbender in Toronto - September 2011
To whomever started the rumour that Michael Fassbender was canceling his TIFF 2011 visit, you need a serious spanking! The strapping German-born Irish Actor arrived finally today in Toronto after missing a round of Press for another high-profile Film in which he stars, A Dangerous Method.
Just having won the Award for Best Actor at Venice Film Festival this weekend, Fassbender I saw is genuinely is amazing to his Fans, taking the time after his James Franco-attended Premiere for Steve McQueen's Shame at Princess of Wales Theatre. One-by-one, he signed Autographs for and took Photos with seemingly not in a rush at all, as his rumoured Girlfriend Zoe Kravitz sat in their SUV waiting patiently. And yes, those good looks are swoon-worthy. Seen and confirmed.
Fassbender absolutely shines as Brandon in the dark and moody Shame, delving deep into the mind and heart of an emotionally empty, yet successful New York Businessman who is surprised by the resurfacing of his younger Sister Sissy (Carey Mulligan). Despite resenting her arrival - a disruption in his Playboy lifestyle - the two are connected in spirit by their traumatic Childhood. Sissy unravels some deeply embedded fears and insecurities in Brandon which he for long has been afraid to face about his own life and his addiction to Sex.

Shame is sexy, riveting and heartbreaking at once and admittedly I still am thinking about the complex blend of emotions I felt watching this Film. Visually, McQueen gives us quiet elegance, paired with a superb Score by Harvey Escott perfectly heightening the emotions we experience in this difficult Journey. Mulligan's performance also is a true revelation as she fearlessly goes further than ever before into that emotional reservoir of hers. Most of all, Fassbender's performance has him fully extended and committed to Brandon; I am mesmerized. I definitely will be seeing it again when it gets a proper release this Fall via Alliance Films.
I may even have signed an extra Photo for a Giveaway I'll do at a later date right here! Stay tuned.
See more of him below:
(Photo credit: Mr. Will-W.)