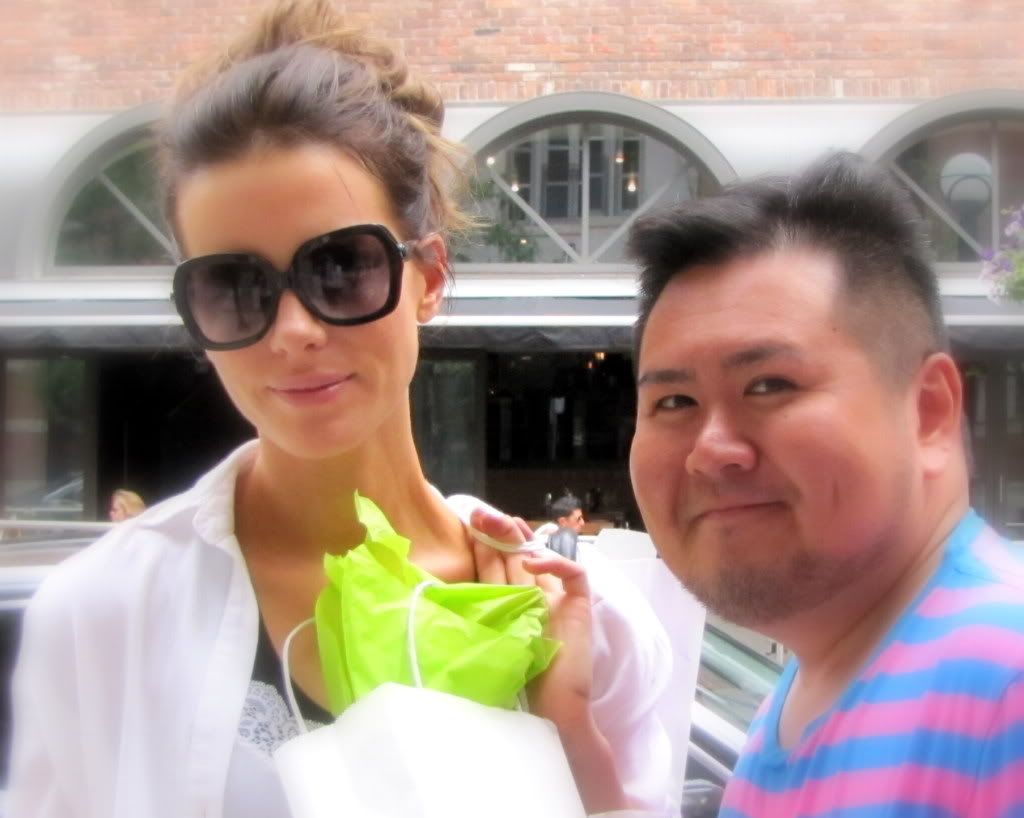 Kate Beckinsale & Mr. Will-W.
One of my favourite Actresses undoubtedly is Kate Beckinsale and although she's been in the City for the Toronto International Film Festival in the past promoting titles like Underworld and Nothing but the Truth, unfortunately I'd never had a chance to meet her. Arriving last month for her Husband Len Wiseman's Total Recall Reboot in which she plays the role of Lori (married to Colin Farrell's Doug), the beautiful Beckinsale has been spotted out and about by Fans and Paparazzi alike. Because I still hadn't seen her, I was beginning to think she was somewhat of a Mirage.
I had spotted
Beckinsale
on a stroll with her Daughter
Lily
, Husband
Len
, another young Lady and their two Dogs
Ingrid
and
Pocket
. The latter even has been spotted on-Set with her. Careful not to be intrusive, I had asked if on her way back she could take a minute to chat and take a Photo with me and absolutely she fulfilled her promise!
Upon finally meeting her, I confessed what a great Fan I am of 2008's
Nothing but the Truth
. Despite few people seeing that Film, her portrayal of a Journalist who had taken her integrity to the extreme affected me deeply. "Yes, it's a shame that it never really made it to the theatres as I was proud of that one", she admits. I commented also how overall I thought
Doug Liman
's 2010 Film
Fair Game
(inspired also by the story of shamed Spy
Valerie Plame
) paled in comparison and she was touched genuinely, saying "Yes, we thought the same!".
She, Lily (daughter of Michael Sheen) and one Young Lady visiting also noticed that I had brought my Dog Billy out for a walk and the three of them were rather smitten by him. Beckinsale asked, "Is he a Shih Tzu? and she absolutely was correct! Their Dogs Pocket and Ingrid - both Female - were so adorably sweet, jumping on my leg. And the two young Ladies present were so sweet wishing me a good night before they head off after our Chat.
Clearly
Beckinsale
knows her way around the City rather well by now, with Shopping Bags from
H&M
and
Indigo
in-tow. Due to her busy filming schedule one wonders, does she know at all that her good Friend and
Underworld
Co-star
Scott Speedman
currently is in-town? Or how about her
Emma
Co-star
Mark Strong
whom visited the City for Press not too long ago? Read my Interview with him
here
.
The brilliant Actress will have a big year in 2012 with Blockbuster-upon-Blockbuster due for release. Among those will be Vancouver-filmed Underworld 4: New Dawn in theatres January, and also Contraband in which she stars alongside soon-to-be Torontonian Mark Wahlberg, plus Giovanni Ribisi in March. And of course Total Recall is slated for a 2012 release too. Will we be seeing Beckinsale back at the top of her game? Totally.