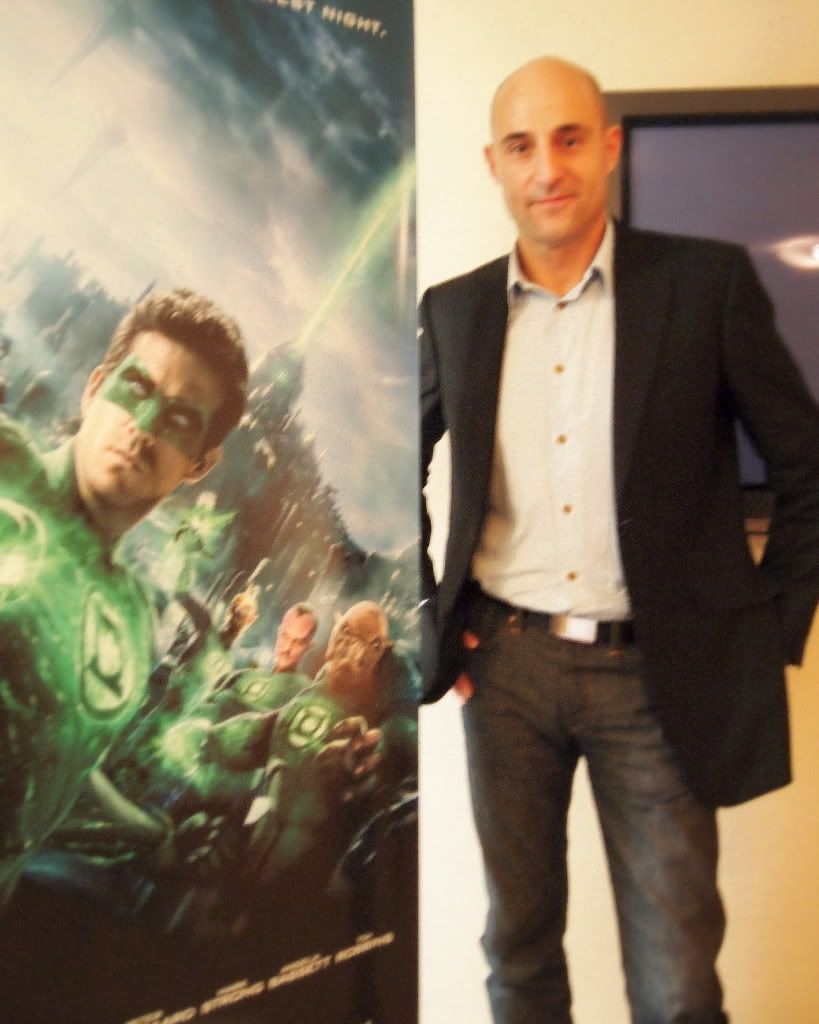 Mark Strong in Toronto - June 2011
"Ah, Parking Validation. What a fascinating thing!", he tells a small group of Journalists today as he entered the Interview Suite of his Hotel. Mark Strong had just arrived in Toronto earlier to promote his latest Film Green Lantern, Warner Bros.' eagerly-awaited Blockbuster from Director Martin Campbell. Dressed in a fitted navy blue Blazer, a crisp blue Shirt and Jeans, the 47 year-old British Thespian - and Father of two - admits, "I only first learned of Parking Validation in Los Angeles".
Strong's new-found Fame in North America having starred in recent mega-hits like Sherlock Holmes and Kick-Ass has been long overdue perhaps, after spending many years on-stage and in lesser-known (in these parts at least) Television Series in the U.K. He considers himself lucky to be cast in big-budget productions now, often as the Villain, posing the question "What's the point of making something that will never be seen?". He reveals that his eldest Son recently witnessed Fans approaching him for Autographs, confused at the sight of it all. He had explained to his six year-old, "This is just a feature of my job, but it does not mean in any way that I am better than they are.".
Growing-up in London, Strong admits knowing little about American Superheroes - other than Superman whom he considers most iconic - as they were more obscure overseas. "I honestly knew nothing about Green Lantern.... Martin sent me a load of Comics to read. I became hooked on the look of Sinestro", whom he plays in this DC Comics adaptation. The Character is the Leader of a race of Peace Protectors (Lanterns) who shun the one chosen Human Hal Jordan (Ryan Reynolds). Hal is faced with the daunting task of overcoming his fears and limitations as a Human in order to save the Universe from destructive Parallax (voiced by Clancy Brown).
"I'm drawn to the idea of Transformation and that's what I enjoy most with Acting", Strong explains. He clarifies, "I'm not a Method Actor though. As an Actor it's my job to flip the switch on and off myself".

What makes Green Lantern so interesting according to him is that there is a vast amount of Mythology behind it, telling me "The more you have to learn about a story, the richer it becomes". He believes its story still rings true with audiences today considering that we are now in times of War, "People want to see the defeat of a Villain and also see the victory of a Hero. You can't have a Hero without a Villain". This echoes those same public sentiments felt over 70 years ago when Green Lantern, created by Martin Nodell and Bill Finger, was first published during World War II. The only difference now of course being that in this era of Blockbusters, we have the Technology to transform concepts onto the Big Screen.
I asked him about the Physicality of his role and the preparation required for some of his Fight Scenes in the Film. Strong tells me, "I arrived two weeks early to New Orleans where Production had taken place, training with Stunt Men to get fit. I would have 3:00 AM Wake-up Calls and then spend four hours in a Make-up Chair, which was great because those layers helped me get into character". "Lunches often came out of a straw", laughs the Actor who often travels with a Pillow of Comfort. Surprisingly, one of his greatest challenges during filming wasn't so much the choreography of his Action sequences, but instead having to fight with imaginary weapons, which later were filled-in with CGI, saying "It was peculiar, really".
On his Co-star Ryan Reynolds, he had nothing but praise for him. "Ryan's really personable, charming, funny and professional. Not unlike other Canadians I've worked with - Taylor Kitsch and Rachel McAdams!".

He admits, "It's always sad ending a Project because you really bond with people over the course of filming". Instead of keeping in touch, Strong always tells his colleagues what an amazing time it was working with them, saying "It's impossible to stay connected sometimes.". Case in point, his former Emma (1996) Co-star and fellow Brit, Kate Beckinsale, actually is currently staying only minutes away from his Hotel and he likely wasn't even cognizant of that. She is filming a reboot of Total Recall.
When asked on his thoughts on a Sequel to Green Lantern, he definitely was interested, referring us to a hidden Easter Egg shown after the Film's Credits have rolled. Don't forget.
Warner Bros
. releases
Green Lantern
in both
2-D
and
3-D
on
Friday, June 17, 2011
. Watch its Trailer in full
here
.
(Photo credit: Mr. Will-W.)