Shania Twain at Indigo Manulife Centre
International Country-Pop Sensation Shania Twain flew into Toronto last night with Husband Frederic Thiebaud, ready to embark on the Canadian leg of her Press Tour for new Memoir, From this Moment On. The 409-page Autobiography features many shocking insights into her life including details about her younger years living in Poverty on a Diet of Bread, Milk and Brown Sugar. She also makes some shocking revelations about her abusive Stepfather Jerry, all the way up to her Divorce from Producer/Husband Mutt Lange, now partnered with Twain's former Best Friend Marie-Anne Thiebaud.
On whether or not Twain will be recording Music soon, she reveals in the Book that she is suffering from a condition called Dysphonia causing her muscles to squeeze her Voice Box. This in turn makes it difficult for her to sing. She understandably is still healing from the remnant emotional pain and anxiety experienced through her Divorce and she also admits to requiring Physiotherapy now.
Twain's hectic day included appearances on CTV's Canada AM, The Marilyn Denis Show and eTalk, in addition to CBC's George Stroumboulopoulous Tonight. She capped it all off with an Autograph Session at Indigo Manulife Centre where Fans camped-out overnight to get their copies of From this Moment On signed. Despite perhaps slightly exaggerated Twitter claims of there being "close to 1,000 people" attending the Event at 6:10 PM, Wristbands to meet Twain were still available at the start time of 7:00 PM. A beautiful and rapturous Twain in stalwart fashion, was able to zip through the queue of Fans in what seemed like near-Record Time - just short of two hours!
My own experience was a bit of a grueling one, having queued-up early at 5:00 AM to secure myself a Wristband before heading off to work for the day after the store opened. At the end of the day, I joined the queue again - nauseatingly hot - where Fans were told via Speakers, "No Memorabilia, No Posed Photography".
After witnessing some Fans being able to take posed Photos with Twain, I too had prepared my Camera for a Self-Portrait with her or a Photo of me with her behind me at least, to which two Handlers sourced by the Indigo Events Team (pictured right), tried intercepting my Photo. I then asked without malice whether I could ask Twain herself permission for a Photo, to which they responded by grabbing me and shoving me off premises. All this of course while my purchased four copies of From this Moment On remained within the Store. Moments later, a Staff Member came out, unapologetically handing me back my Books - unsigned, telling me I had to leave.
Much to my surprise, Twain's younger Sister Carrie Ann then ran out of the Store, fetching me over. "I'm so sorry! What they did wasn't right. Shania told me to come back and get your books. She said, 'That wasn't fair! He only wanted to take a Photo with me!'". And those words had me tearing-up almost and she gave me a hug. She then went back into Store and ensured that all four of my Books were signed, returning them to me shortly with an apology, "I'm so sorry again. Shania felt really bad about what they did to you. Thank you for understanding!". We exchanged another hug, before I thanked her sincerely for doing the right thing. True, nobody is above the rules but I should at least be entitled to an opportunity to ask. Nobody should be treated with this amount of belligerence and clearly, Twain feels the same. Really, Indigo Events? Really?
I'm sure many of us are aware of Twain's troubles with alleged Stalker Dr. Giovanni Palumbo, who is now actually under Custody. And believe me, I'm all for the safety and protection of Artists, but have we gotten to the point where we're punishing legitimate Fans for the actions of one Bad Apple? This is all rather surprising when just moments earlier in the queue, some other members of the Indigo Events Team greeted me with friendly "hellos", addressing me by first name after knowing me from many previous events I've supported - most where I've had no problems obtaining a Photo in the past.
Through all the Drama, it is Shania who wins biggest out of all of this. Grace incarnated.
Order your Copy of
From this Moment On
here
.
See more Photos below: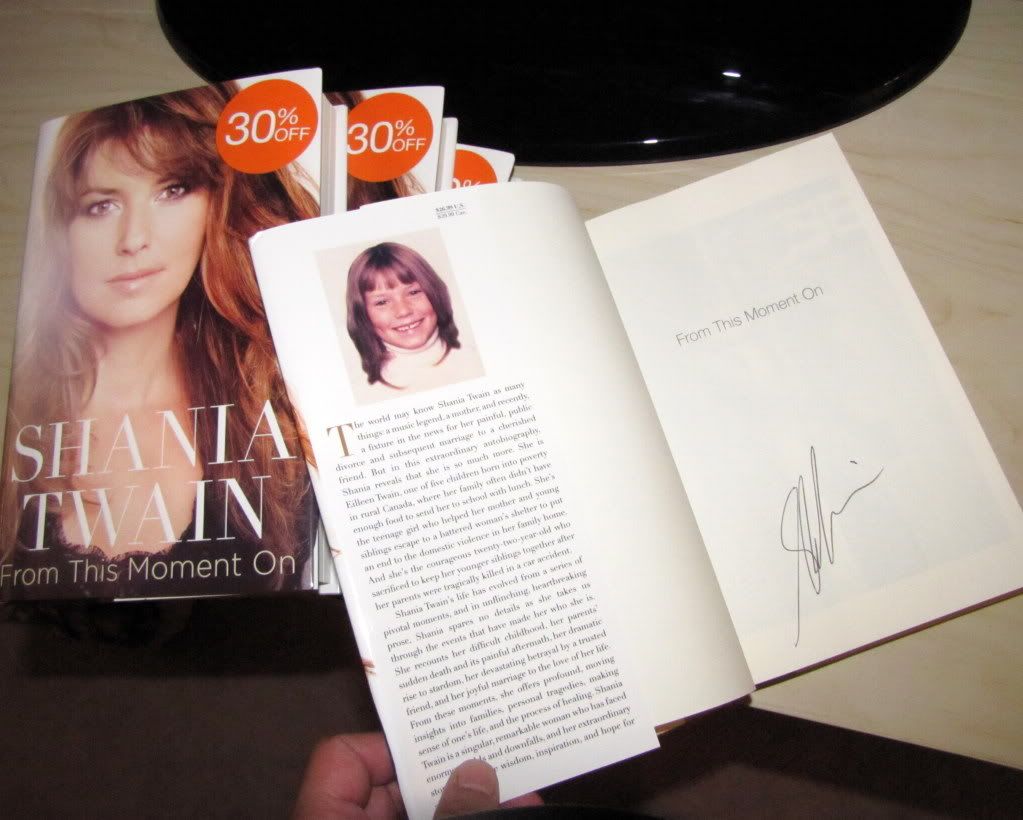 (Photo credit: Mr. Will-W.)