Tinie Tempah & Mr. Will-W.
Although we're still getting to know Tinie Tempah, he already has been stunning audiences overseas at high voltage. Born Patrick Chukwuemeka Okogwu, the Rapper who hails from South London just earlier this year had the distinction of nabbing two BRIT Awards including Best Breakthrough Act and Best Single for his Pass Out. Not bad considering less than two years ago he was still unsigned.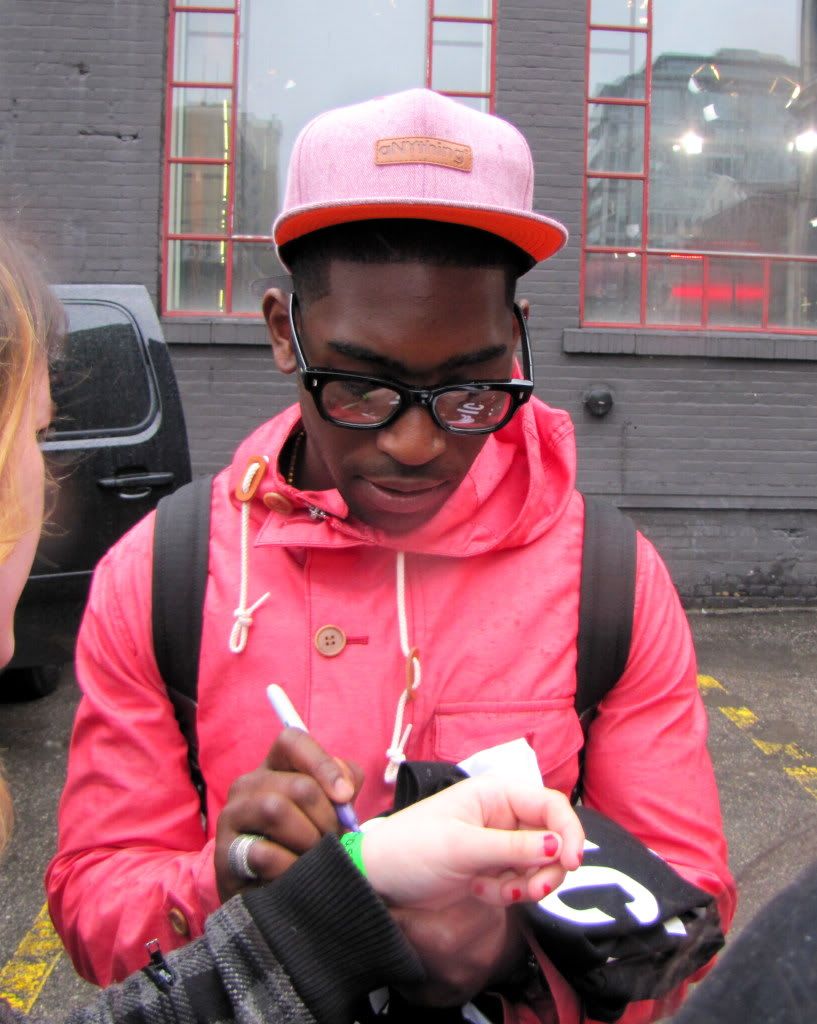 In-town to promote his stateside debut from
EMI Music Canada,
Disc-Overy
,
Tempah
's itinerary included Radio Press, a sold-out Concert at
Wrongbar
and above that, an appearance on
MuchMusic
's
New.Music.Live
. The Album actually already reached number one on the
UK Albums Chart
in its original format last October.
It hasn't been all work and no play though as Tempah Tweeted today to his Followers, "T.O. what can I say... Last night was Epic! So Epic I can't even remember half of it! :-P Thanks for having me!". He also is slated to make an appearance at LIVE Night Club in the City's Entertainment District this evening.
Tempah won over a fickle Toronto audience over last night without a negative Tweet to be found. Concert-goers were not shy about taking to Twitter expressing their enthusiasm for his Canadian debut:
@bigwayne45 Tweeted, "Wanna send big ups to @TinieTempah for a wicked show 2nite at Wrongbar. Great energy...".
@morrisdave (Music Editor of Eye Weekly) Tweeted, "... i was at Tinie Tempah. amazing, FYI.".
@indreamswelie Tweeted, "Always been a big fan of what comes out of the UK and Tinie Tempah killed it at Wrongbar tonight.".
I caught-up with Tempah on his way out of his New.Music.Live appearance and I expressed to him how disappointed I was that I couldn't get a ticket to his Wrongbar Concert. He did assure me, "I'll be back soon - don't you worry!". He more than made-up for it though I must say as despite it being rainy, he was amazing to stop and sign Autographs for Fans without a rush, also posing for some Fans whose Photos didn't turn-out the first time around at the Taping. A Class Act.
I'm giving away one signed 5x7 Photo (below) from Tinie Tempah himself to one lucky Reader who can list for me in the Comments section, their favourite Track off of Disc-Overy. Your deadline is June 1, 2011. Good luck, Mavenati!
Disc-Overy
is now in stores. Order it on
iTunes
here
.
Follow
Tinie Tempah
on
Twitter
here
.
(Photo credit: Mr. Will-W.)