Diddy in Toronto - April 2011
Although it took him 14 years to do it,
Sean Combs
aka
Diddy
finally held his first self-headlining Tour in Toronto at
Kool Haus
. Here with his latest project
Diddy-Dirty Money
, which features two Co-writers and Vocalists
Kalenna Harper
and
Dawn Richard
, the Trio performed highlights from their debut Disc,
Last Train to Paris
released last December.
Fashion Icon, Designer, Rapper, Producer, Entrepreneur, Television Personality, Actor - whatever you know him as, Diddy's influence on our generation can be felt deeply, transcending multiple mediums.
Diddy-Dirty Money
in an abnormally late start time for a Sunday night, took to the Stage at
11:30 PM
, zipping through an energetic first-half which featured mostly new material.
Ass on the Floor
,
Angels
,
Loving You No More
although more
Euro-Disco
than what we are accustomed to from
Diddy
, were the brightest moments - stylized and atmospheric.
Last Night
from 2006, also had the Audience in good spirits, but the biggest treat of all was a surprise
Sade
Mash-up
of
No Ordinary Love/Soldier of Love
, plus a Cover of
Prince
's
Something in the Water.
"We don't do what other Niggas do. We're all about creating a Vibe", Combs tells us. An intimate mood was enhanced by a three-LED Screen Backdrop: one on each end of the stage back-lighting Harper and Richard - both eye-catching - and another Screen providing some overhead lighting. We were transported to another Galaxy - accentuated by the aroma of the thick, Weed-filled Air. In all honesty, the small stage at Kool Haus was not enough to accomodate the magnitude of Diddy's already scaled-production.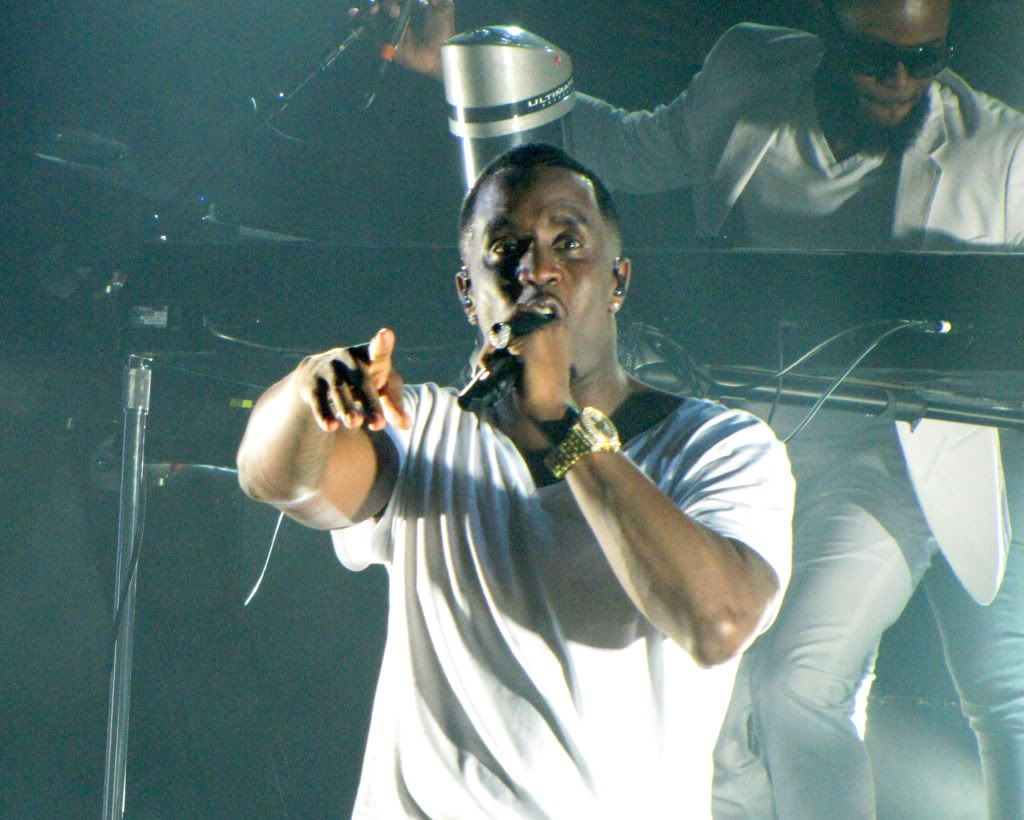 Much of the Show's second-half focused exclusively on
Diddy
's earlier work as both an Artist and Producer. Although presented only in Medley snippets, we received samplings of
I Need a Girl Part II (Usher), Bad Boy for Life, Only You (112), It's All About the Benjamins, Feel So Good (Mase), Welcome to Atlanta (Jermaine Dupri), Mo Money Mo Problems (The Notorious B.I.G.)
and more. Without a doubt, the Audience connected best with
Diddy
and
Diddy
alone here.
Watch the Medley in full here:

Despite his massive success - a net worth of $475 million to be exact, according to Forbes Magazine - Diddy remains humble to his roots, paying a thoughtful tribute to his long-deceased Friend The Notorious B.I.G. Serenading that Rapper via an image of him splashed onto an LED Backdrop, we also are reminded that Diddy is a Survivor. He stands tall still despite many of those Artists whose careers whom he helped shape have faded into our memories.
Diddy encourages us, "I dreamed big and my dream came true. I want to inspire others, reminding them that they can do it too with hard work.". An Icon indeed and a Concert I'll never forget.
See more Photos from this evening here:
(Photo/video credit: Mr. Will-W. | Audio content: Sony Music)