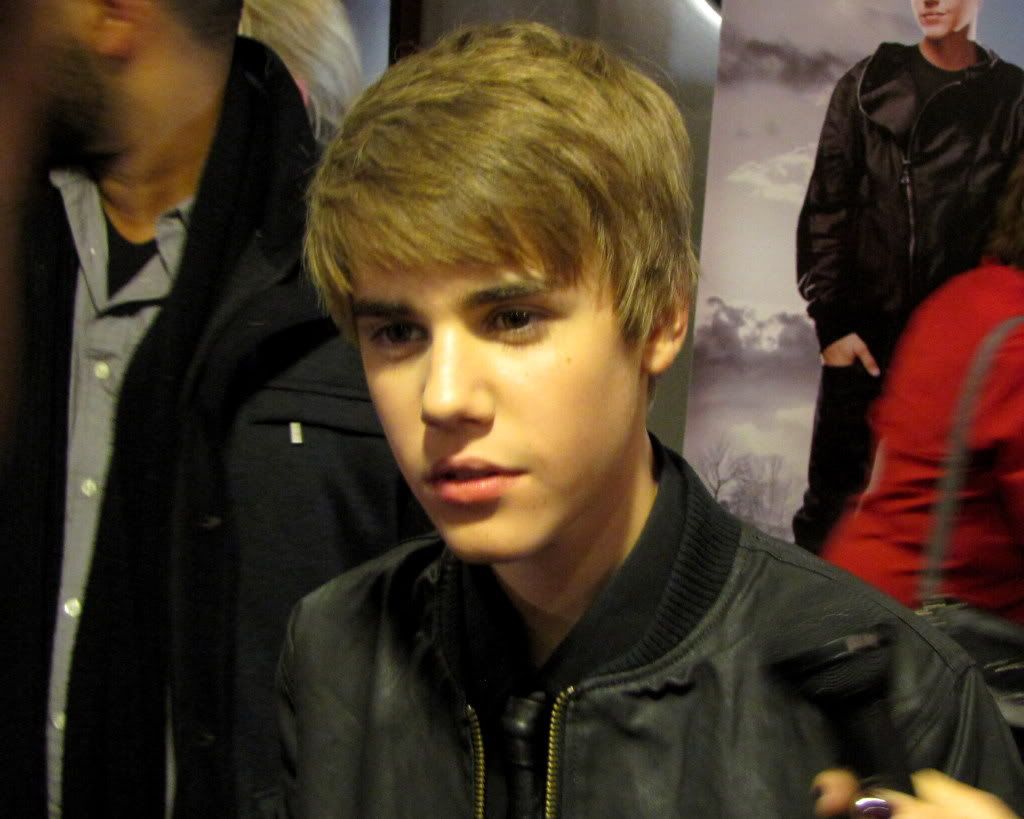 Justin Bieber
in Toronto - February 2011
Although Toronto was safe from the impending Blizzard today, another Supernatural force swept through the City.
Justin Bieber
.
Arriving at
Toronto Pearson International Airport
just before 11:00 PM last night, the 16 year-old Teen Sensation retired to his Hotel Room, watching a bit of
David Letterman
with his little Sister
Jazmyn
by his side, before calling it a night.
Bieber
is in-town promoting his Big Screen debut, a
3-D
Documentary titled
Never Say Never
, directed by
Jon Chu
. The Film follows him around in his world travels and promises lots of Celebrity Cameos.
With Fans camped out overnight in front of Royal York Hotel, many received a wonderful surprise after being summoned into his Media Only-Press Conference this afternoon by his Handlers. Answering seemingly mundane questions which oddly are fascinating considering his level of Fame, Bieber revealed lots of Fun Facts. For example, he confessed how much he misses Tim Horton's Iced Cappuccinos and how simply he cannot travel without those chewy Cinnamon-flavoured Confectioneries: Big Foots. He adores Ketchup Chips and is adamant in his distaste for Sour Patch Kids. I agree. Gross.
At one point in the Press Conference, he interrupted one Journalist posing a legitimate question, favouring a Fan question. "Will you marry me?", one lovestruck Fan asked. Kids.
Bieber
then trekked down to the
MuchMusic
Headquarters on
Queen St.
for an appearance on their newest program,
New.Music.Live.
where adoring Fans got a chance to see their Idol up-close. One
Paparazzi
admitted to me, "It was crazy, but not as crazy as
Taylor Swift
"; she had visited last November to a bit more fanfare. But then again, the deep winter chill also wasn't a deterrent for Fans.
At approximately 6:20 PM, Bieber arrived at AMC Yonge x Dundas where he did a quick round of Press on the Purple Carpet, customized into the Singer's favourite colour. With less than 20 minutes to work his way through the Line, interspersed with Photo Ops, the pace was hectic. Bieber posed for Photos with his Family including Mother, Pattie Lynn Mallette and his little Sister, Jazmyn. One elderly Lady wanted to give him a kiss and she went for it.
Watch the Kiss below:
Any requests for posed Photographs with Bieber and Autographs (I really wanted my copy of My World 2.0 signed!) were brushed-off by his Security Guard, before he was rushed into Theatre Seven, where lucky Fans who won Tickets through KISS 92.5 FM got to enjoy the Premiere with the likes of his Family and friends like Rapper Drake. Director Chu was in attendance, along with Bieber's spritely Manager Scooter Braun who was Camera-shy saying, "It's not about me tonight!" and gesturing Reporters to interview Chu instead.
Bieber is headed off to do more Press in New York City tomorrow, with another Premiere in the evening. Paramount Pictures' Never Say Never 3-D opens in theatres, February 11, 2011. Is Bieber Fever still v. clear and present? Beliebe it, Bitches.
What will ensue below is a whole lotta Bieber. Enjoy!
(Photo credit: Mr. Will-W.)