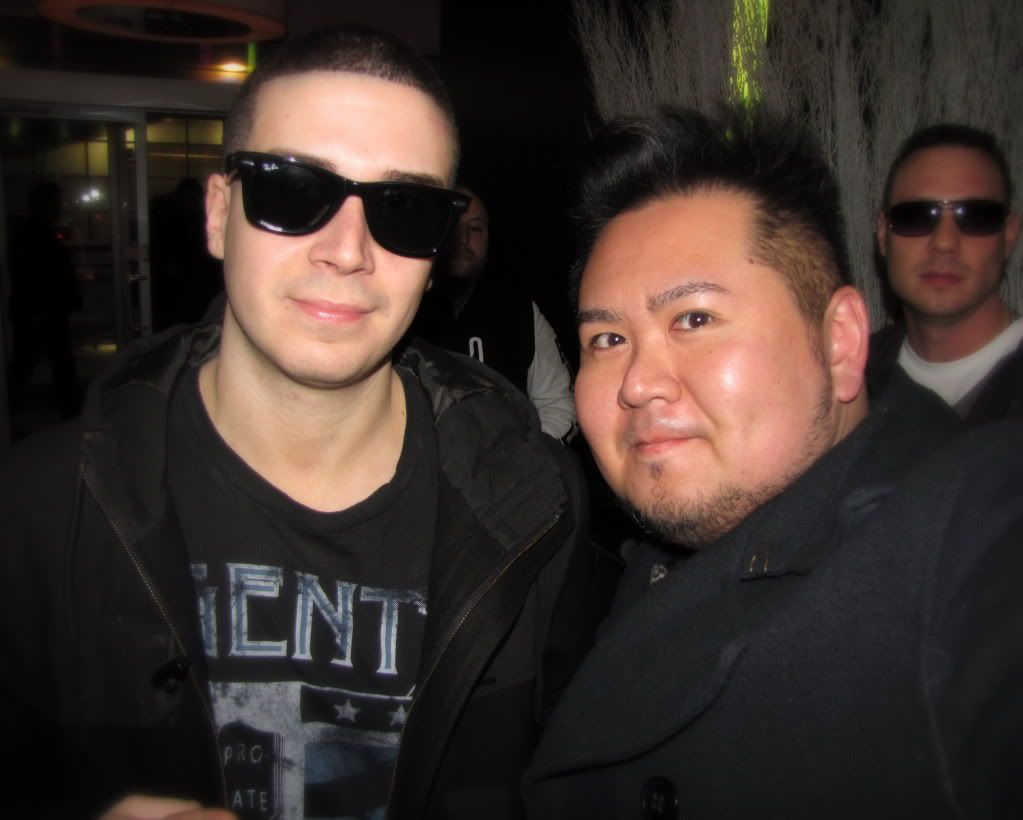 Vinny Guadagnino & Mr. Will-W.
Vinny Guadagnino might be known more for his on-again/off-again romance with Snooki on MTV's Jersey Shore, but while some of his higher-profile Co-Stars on the wildly successful Reality TV Series have been quick to capitalize off their new-found Fame, he's been a little more low-key.
Guadagnino flew in to Toronto earlier today for a scheduled appearance at The Guverment Night Club tonight. Often thought of as the "Good Guy" on the Show, he was spotted having Brunch earlier today with his Entourage at Fran's Diner across from Eaton Centre.
Despite wearing a pair of Sunglasses, his identity could not be concealed as he was recognized instantly on his way out to Dinner with Friends and a Party Promoter. As he signed one shirtless Photo of himself for me, one Friend jokingly commented on his pose: "Man, that's Gay!".
Guadagnino
replied by recalling the fun he had in Miami during that Photoshoot. He then posed for a quick Photo with me, doing his signature
Fist Pump
, which unfortunately my Camera didn't capture in full. But you get the Picture....
The Staten Island native is one of three Jersey Shore Cast Members in-town this weekend. Co-stars JWoww and Pauly D are also here, while The Situation is set to arrive sometime next week for an appearance at Vaughan's Luxy Night Club.
So you absolutely have to see this controversial 8x10 Photo he signed, do you? And you want to win it? Of course, you do! Leave me a comment with your thoughts on whether or not you feel Vinny should hook-up officially with Snooki. One winner will be selected at random by April 1, 2011. Good luck, Mavenati!
Follow
Guadagnino
on
Twitter
here
.
(Photo credit: Mr. Will-W.)