Bobby Farrelly at Toronto Premiere of Hall Pass
The Farrelly Brothers have delivered some of the most memorable Comedies of our time. Dumb and Dumber, Me, Myself & Irene and There's Something About Mary are just a few small-grossing and obscure titles you may have heard of - I kid. As hopes remain high for Brothers Peter and Bobby's upcoming revival of The Three Stooges (heavyweights like Sean Penn, Jim Carrey and Benicio Del Toro have been named), Fans thirsty for The Farrelly Brothers' bold and outre brand of Comedy can quench their thirsts with latest effort Hall Pass.
The Premise of the Warner Bros. Comedy is rather unconventional. Best Friends Rick (Owen Wilson) and Fred (Jason Sudeikis) have been married to their Wives Maggie (Jenna Fischer) and Grace (Christina Applegate) seemingly forever. Bored, they are granted permission to have extra-marital relations for one week. They learn soon that Freedom isn't so liberating after all when they realize that their Wives too can have their fun. No, I am not reading this off the back of an XXX DVD.
Bobby Farrelly flew into Toronto this evening for a full day of Press tomorrow with major Media Outlets, promoting the release of Hall Pass. Arriving just in time for a Q&A with tonight's Audience at AMC Yonge x Dundas, the Rhode Island native was a huge blast, insisting that I join him in taking a couple goofy Photos together after I had snapped some shots of him posing by the Film's Poster Display. I admitted to him that There's Something About Mary is one of my favourite Movies of all time, which he seemed genuinely appreciative to hear.
Following him into the theatre along with the team at Warner Bros. Canada, Farrelly and Writing Partner Kevin Barnett entered to the resounding sound of laughter and applause from the young Audience. "That was freakin' hilarious. I didn't expect it to be that funny!", one young Woman behind me raved. Another young Man in the Audience declared, "Hall Pass is this year's The Hangover".
Farrelly admitted that both he and his Brother are obsessed with Bodily Functions, a topic which many of their jokes are built upon. Not to give too much away, there is a shocking scene in Hall Pass which revolves around some Male Anatomy, which caused quite a stir among the Audience. The Director/Screenwriter also boasted of his great Cast, making some interesting choices like The View's Joy Behar and Oscar-nominated Richard Jenkins, whom the Farrelly Brothers are always looking to incorporate into their Films.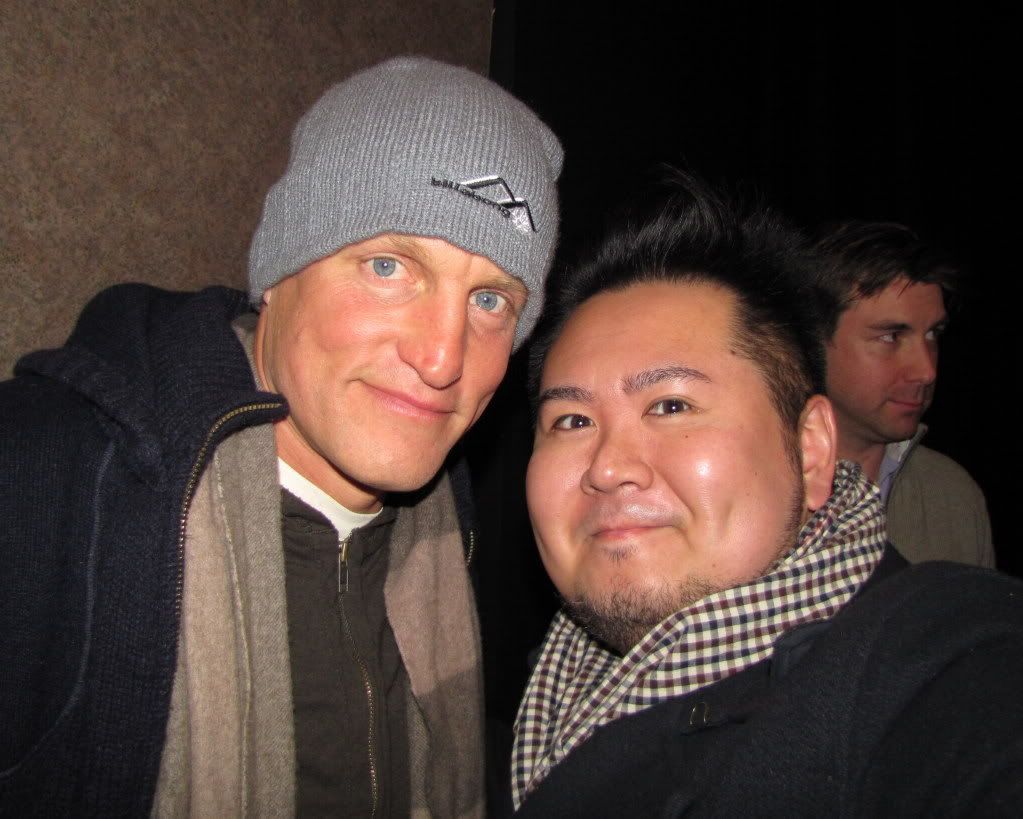 And you'll never guess who attended tonight's Premiere! Woody Harrelson who is in town and beginning Production on his upcoming play Bullet for Adolf, seemed to have had a wonderful time, delivering much praise to Farrelly. Harrelson's Play opens this April at the University of Toronto's Hart House Theatre. Both Farrelly and Harrelson could be heard trying to decide upon a place in the area to have a Drink afterward. Of course, I had to ask Harrelson for a Photo together, knowing how notoriously difficult he is to get an Autograph from!
Farrelly was kind enough to sign a 5x7 Photo (below) for you Mavenati, so tell me how much you want it! Leave a comment below with the name of the company which will be distributing Hall Pass in Canada. One winner will be chosen at random March 10, 2011. All are welcome to enter. Good luck!
Hall Pass
opens in theatres
Friday, February 25, 2011
. Watch its Trailer in full
here
. Check back next Friday for my full review!
(Photo credit: Mr. Will-W.)