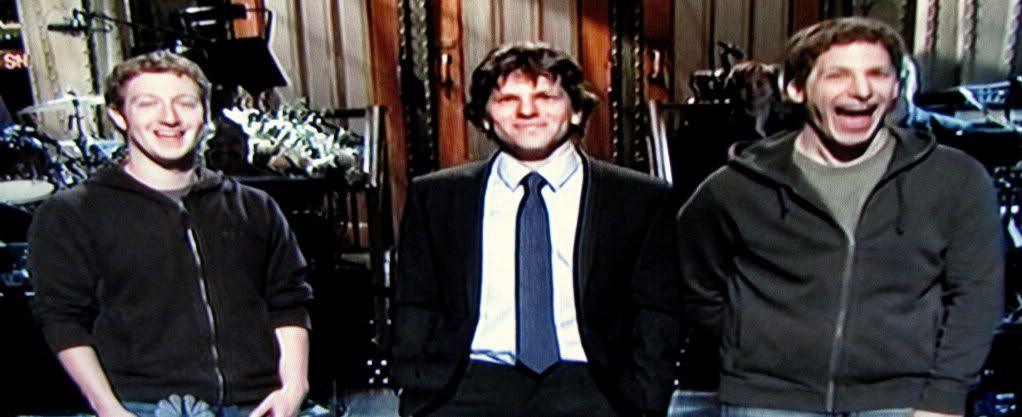 Mark Zuckerberg, Jesse Eisenberg & Andy Samberg on SNL
It happened! Facebook Co-founder Mark Zuckerberg did make an appearance on tonight's episode of Saturday Night Live after all as rumoured. Jesse Eisenberg played Host after only last week garnering his first Oscar nomination for his portrayal of Zuckerberg in David Fincher's The Social Network.
Apparently Eisenberg and Zuckerberg have never met, but they were united on-stage for the first time along with cast member Andy Samberg who was dressed also as Zuckerberg. Yes, count 'em - three Zuckerbergs. Eisenberg played up the awkwardness of the moment after Zuckerberg revealed he has indeed seen the Best Picture candidate.
Zuckerberg
was a good sport, introducing the evening's musical guest, rapper
Nicki Minaj
, who just might have upstaged a nervous
Eisenberg
who never quite hit his best stride, getting buried in some of the material. One Skit had him singing wrong lyrics chalk full of
Freudian
slips on a mock-episode of
VH1
's
Don't Forget the Lyrics
.
Bill Hader
reprised the role of a volatile and senile News Reporter,
Herb
, interviewing
Eisenberg
from the site of a College Drug Bust;
Hader
was so funny that even he broke down laughing himself, not giving
Eisenberg
much of a chance to be noticed.
Kristen Wiig
stole the show again on a Skit called
Spa Talk
which had
Eisenberg
and fellow cast mates dressed in Robes receiving beauty treatments like Turtle Feces being smeared on their faces.
As one can see, the material wasn't the greatest....
(Photo credit: NBC)