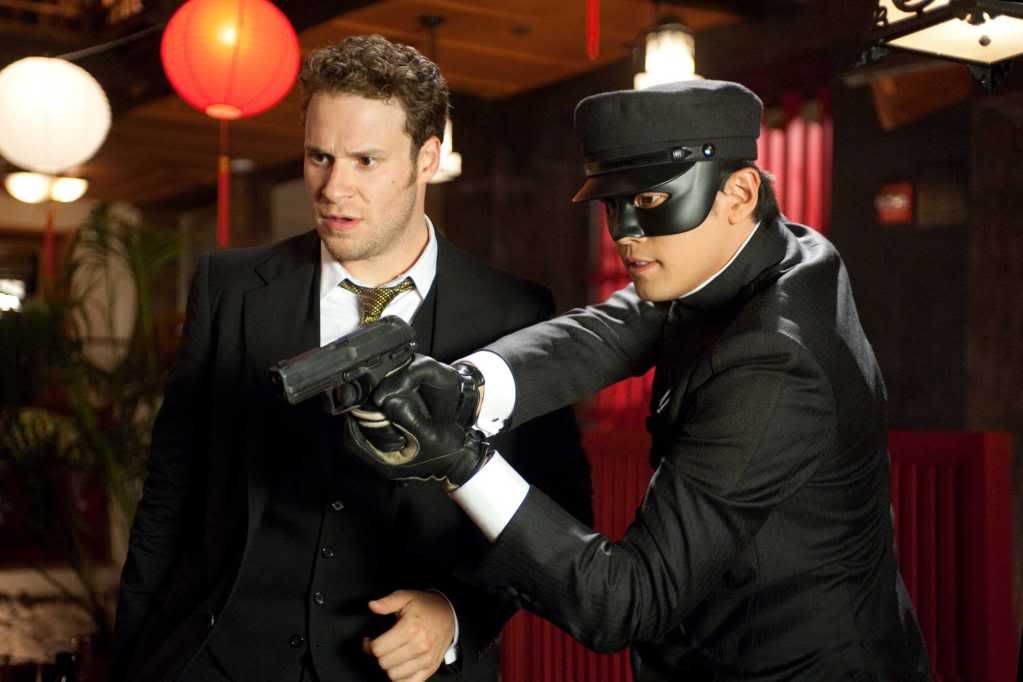 Still from The Green Hornet 3-D
Despite not having high expectations for it, Michel Gondry's The Green Hornet 3-D actually is full of pleasant surprises. This take on the Radio Series-cum-Comic, penned for the Big Screen here by Evan Goldberg and its Star Seth Rogen, has no shortage of laughs - at points parodying the often exaggerated action sequences seen in films of this genre. Rogen firmly answers the question of whether or not he can play the lead role in an Action Hero Movie with a definitive "yes"- but not without having to play-up his own unconventionality.
The Green Hornet follows the story of Britt Reid (Rogen), Party Boy Heir to a fountain of wealth left by his deceased media mogul Father James (Tom Wilkinson). Without any real aspirations in life, he winds up meeting one of his Father's Assistants Kato (Jay Chou), a Man of many hidden talents. The two develop a Brother-Brother relationship complete with Sibling Rivalry, setting out to end Organized Crime in Los Angeles while fumbling in their own inexperience and lack of direction.
Britt takes on the alter-ego of The Green Hornet, with the City divided in whether or not his crime-fighting actions are that of a Hero or a Villain. The Duo's strongest opponent is ruthless Gang Leader Chudnofsky (Christoph Waltz) and soon they uncover his secret ties with one of James' politically influencial colleagues, Scanlon (David Harbour). Will The Green Hornet and his trusty Sidekick be able to defeat the powerful Chudnofsky or will they succumb to the power Criminal?
I admit that I could not stop laughing throughout this Film as Chinese mega-star Chou and Rogen have an unlikely yet effective working chemistry together pushed forth by Rogen's arrogance and clumsiness, contrasted with Chou's quiet strength. The only thing left unanswered though is why or how Britt and Kato become so drawn to a life of fighting Crime.

Oscar winner Waltz as always is deliciously evil, but laughable playing on the insecurities written into Chudnofsky's character perfectly. Surprising is a hilarious Cameo by James Franco as an insult-hurling Gangster, seen early in the Film. Those expecting standard fare Action will be disappointed; those expecting to be entertained will get more than they bargained for. Sony Pictures' The Green Hornet 3-D is now in theatres. Grade: B+