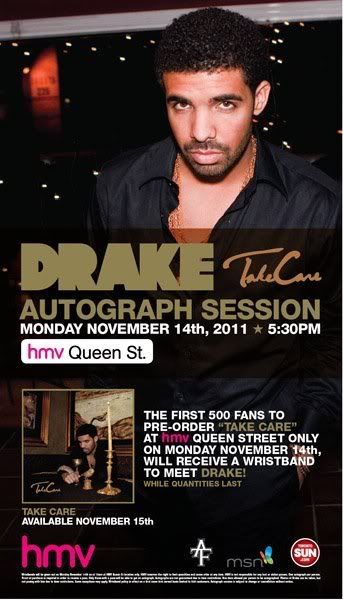 Drake at HMV Queen St.
After what seems to have been a drought of Star Power these past few weeks, Drake "takes care" of us hungry Toronto Fans! The Hip-Hop Star will be promoting his new Disc Take Care with an Autograph Signing at HMV Queen St. (272 Queen St. W) in Toronto next Monday, November 14, 2011 at 5:30 PM Unfortunately there will be no posted Photographs, but you can take Photos of Drake!
The first 500 Fans to pre-order Take Care that day at the Queen St. Store will get Wristbands to meet Drizzy himself. Wristbands will be handed out after 10:00 AM. Get there early! Have fun, Mavenati!
Take Care hits stores Tuesday, November 15, 2011.
(Audio content: Universal Music)