Sarah Ferguson, Duchess of York & Mr. Will-W.
Suzanne Rogers
, Toronto Fashionista and Wife of Cable Heir
Edward
, combined two of her greatest loves together for an ultra-exclusive Bash this evening at
The Carlu
. That is, her desire of Philanthropy and passion for Fashion - specifically
Marchesa
, which made its official Toronto debut tonight. Proceeds from the Gala were to benefit the
SickKids Hospital Foundation
.
Co-founded in 2004 by Keren Craig and Georgina Chapman, who is known more in the public eye as the Wife of Movie Mogul Harvey Weinstein, the Brand is a Red Carpet favourite among Actresses. Both Craig and Chapman arrived in Toronto for the festivities, doing Press out of their Yorkville Hotel earlier in the day before Rehearsals for the Show. Accompanying Chapman of course was Weinstein, who is said to have taken care of Baby Daughter, India Pearl while Mommy was hard at work.
Needless to say, guests of the Marchesa Gala this evening had nothing but rave reviews, with many taking to Twitter to express their excitement.
Flare
Editor
Lisa Tant
(
@lisatant
)
Tweeted
, "
Marchesa
finale gown gave me goosebumps. Tonight's event will raise $1million for kids charities."
Ricky Boudreau
(
@rickyboudreau
)
Tweeted
, "Wow! The
Marchesa
show was outstanding!"
Designer and
Fashion Television
Host
Jeanne Beker (@jeanne_beker) Tweeted
, "And the glam keeps on comin'."
Beker even posted a Photo on Twitter she took with (L to R) Rogers, Chapman and Rogers earlier in the day: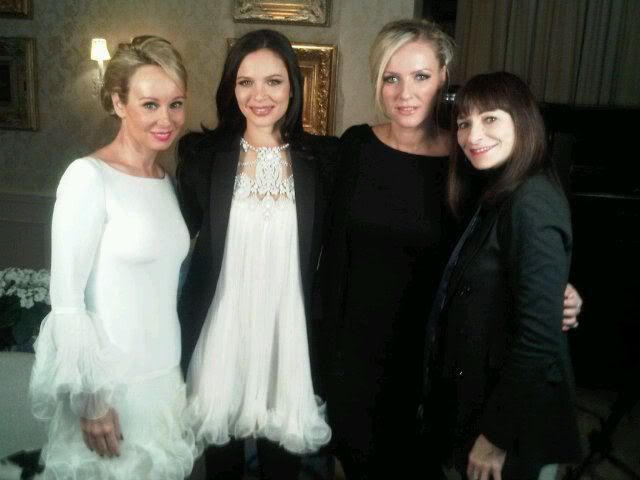 Although I had taken many fabulous Photos of
Chapman
and
Weinstein
arriving on the Red Carpet earlier
Guerilla
-style
sans
Media Credentials, it seems that I paid some sort of a Karmic price for it as unfortunately my Files were corrupted while uploading the Photos to my Computer. I was able to salvage only a couple Photos of the delightful
Sarah Ferguson, Duchess of York
who was awful nice to pose for a Photo with me. Dressed in
Marchesa
and Jewelry by
JDJ
,
Ferguson
radiated elegance. And after our Photo didn't turn out the first time, she was just as lovely to take another with me later on. Her
The Sarah Ferguson Foundation
also was a Key Player in this evening's Gala.
Ferguson
played Host this evening too, at one point reprimanding the Crowd for speaking during the Live Auction portion of the Gala.
Amy Verner
(
@amyverner
)
Tweeted
, "
Fergie
gives crowd a good scolding for chitty chatting during live auction....".
On his way out, I did meet
Weinstein
quickly, telling him what a great supporter I am of his Films.
Bridget Jones's Diary, Shakespeare in Love, The King's Speech, Pulp Fiction, Kill Bill Vol. 1 & 2, NINE, CHICAGO
.... so many of my favourite Films are a part of the
Weinstein
legacy. Although I asked nicely for a Photo together he declined nice and calm, "I can't.", somewhat underwhelming for a Man known for his temper.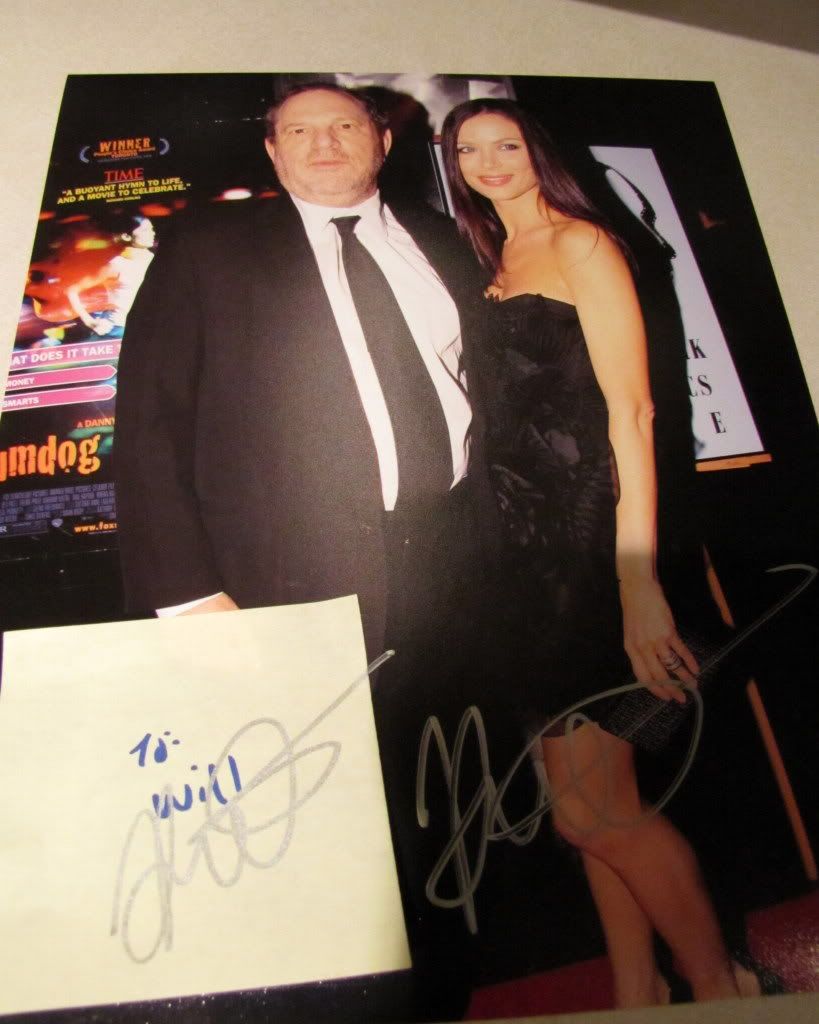 He did sign an
8x10
for me of him to which he reacted "Ugh!" seemingly displeased at my choice of Photo. In all honesty, finding a High Resolution Photo of him on
Google
was not an easy task at all. Perhaps tipsy, he signed my
Sticky Note
by accident, before realizing he was to sign the actual Photo. Second time's the charm, I suppose - ironic considering that
Weinstein
appears to be experiencing a Second Wind in this phase of his life: in love (his marriage to
Georgina
is his second) and professionally after a falling-out with
Miramax/Disney
and a new start with
The Weinstein Co.
.
(Photo credit: Mr. Will-W./Jeanne Beker)