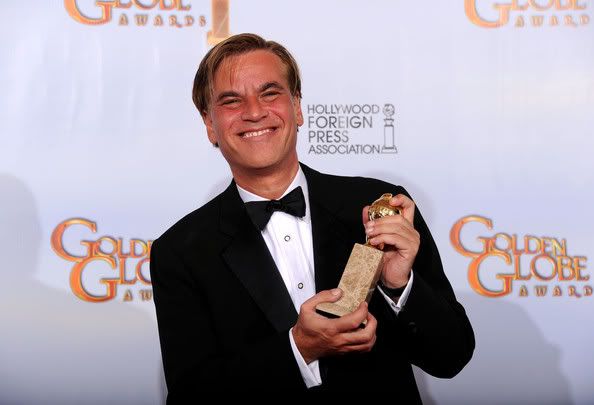 Aaron Sorkin
For those of you who missed the 68th annual
Golden Globes
tonight on
NBC
, here's a recap and some highlights:
-The Social Network executes a full-on assault on the evening, winning most major Awards - Best Motion Picture - Drama, Best Director (David Fincher), Best Screenplay (Aaron Sorkin) and Best Score (Trent Reznor)
-The televised broadcast going black as Natalie Portman is announced as a nominee for Best Actress in a Drama Motion Picture for Black Swan. Of course she won joking, "That Man - Benjamin Millepied - he`s the best Actor ever because in the Film he said he wouldn`t sleep with me and look, he really does want to sleep with me! ". Millepied is now engaged to Portman and the Father of their Child, to be born this Summer.
-Colin Firth winning Best Actor in a Motion Picture Drama for The King's Speech and true to character, delivering understated words. No surprises there.
-A recovering Michael Douglas presenting the Award for Best Motion Picture - Drama to The Social Network Producer Scott Rudin; Douglas received a standing ovation.
-
Robert DeNiro
accepting the
Cecil DeMille Award
from
Matt Damon
, joking "I loved you in '
The Fighter
'", to which
Damon
nodded back graciously playing along with the legendary Actor.
-An ecstatic veteran Actress Melissa Leo winning a well-deserved Best Supporting Actress Award for The Fighter rejoicing, "Look Mom! I won a Golden Globe!"
-A nervous Andrew Garfield, nominated for Best Supporting Actor in The Social Network, making multiple blunders in reading the Teleprompter for an Award announcement, then apologizing profusely
-Laura Linney winning Best Actress in a Comedy Series only not being able to accept her long-overdue Award. Linney's Father, acclaimed Screenwriter Romulus Linney, had passed away yesterday; a bittersweet victory.
-The Camera frequently panning on Brad Pitt and Angelina Jolie, stunning in a green Versace Gown. Viewers got to see Angelina re-apply her Lip Gloss and fix Brad's Bow Tie... just like normal people!
-Host Ricky Gervais joking, "Tickets to see Cher. Now, how is that a bribe?" in commenting on hot rumours that the Hollywood Foreign Press Association who decide the Golden Globe winners, are guilty of being involved in Payola with movie studios.
-Annette Bening exchanging a kiss with The Kids are All Right co-star Julianne Moore when accepting an Award for Best Actress in a Comedy/Musical. The Film also won Best Motion Picture - Comedy or Musical.
-The Cast of Glee scoring big, winning Best TV Series - Comedy or Musical. Cast members Chris Colfer and Jane Lynch picked-up a pair of Awards also in the Best Supporting Actor and Best Supporting Actress categories.
-Paul Giamatti wins Best Actor in a Motion Picture Comedy or Musical for Barney`s Version, thanking the great people of Canada. The Film was made partly in Montreal.
-The Camera panning on a fuller-figured Christina Aguilera clapping quietly as Burlesque is announced as a nominee for Best Motion Picture - Comedy or Musical.
View Photos of the Winners by
Getty Images
at
Zimbio
.
(Photo credit: Kevin Winter/Getty Images)